The 12 Blackest Entertainment Moments Of The Decade
If there were one prevailing theme of the last 10 years it would be unabashed Blackness.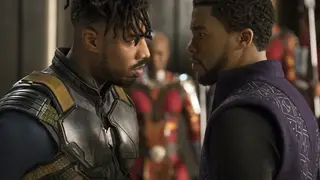 It was a decade marked by social media activism, the dominance of LeBron James, fake news, political upheaval, Queen Beyoncé and superhero movies. But if there were one prevailing theme of the last 10 years, it would be unabashed Blackness. The following list features 12 of the most memorable moments in pop culture from the rise of Black Twitter to Kendrick Lamar's two-fisted message of hope. Buckle up.          
2010: The Boondocks (Season 3), It's a Black President, Huey Freeman

In less than 30 minutes, Aaron McGruder manages to pull off a brilliant dissection of Black America and all its complexities in The Boondock's take on the 2008 presidential election of Barack Obama. The hilarious opening season episode is presented as an earnest documentary by a German filmmaker looking back at the various reactions to the surreal night America ushered in the era of its first Black President. It's all there: Former civil rights activist Robert "Granddad" Freeman laughably taking credit for the historic victory at his election party. Riley Freeman giving a rather blunt reason for his support of Obama ("He Black…"). 

Thomas and his wife, Sarah DuBois, are deliriously optimistic of the future. Rapper Thugnificent jumps at the chance to appear on a Will.i.Am song, which is actually a NSFW parody of celebrities shamelessly hitching themselves to the Obama bandwagon. Uncle Ruckus is hating as usual, and as for the militant and unimpressed Huey Freeman, when questioned by the interviewer on whether too much hope can be bad thing, he responds: "Hope is irrational." Indeed, McGruder's nuanced, elated, absurd and profane statement never takes the easy way out.  

2011: Beyoncé Shows Off Her Baby Bump At The MTV VMAs

Four years after stunning the world with their super-secret wedding ceremony, Jay-Z and Beyoncé lived up to their title as the entertainment biz' ultimate power couple at the 2011 MTV VMAs. Jay-Z joined his one-time Watch the Throne partner and pre-MAGA Kanye West for an uproarious "Otis." But it was a memorable appearance by Queen Bey that left everybody talking. Following a performance of her infectious "Love on Top," the hottest chick in the game literally dropped the mic and opened up her purple tuxedo jacket to expose the baby bump seen by millions. The world would have to wait to catch its first glimpse of the perpetually scene-stealing Blue Ivy. Watching a beaming Hov being congratulated by a joyously animated 'Ye is a reminder of better times between the two brothers in spirit.    

2012: Jamie Foxx Kicks White Supremacy's Ass In 'Django Unchained'

Yes, it's true that director Quentin Tarantino's at-times exhaustive use of the N-word in some of his most celebrated films comes off as mere trolling. But watching Oscar-winner Jamie Foxx take on the role of an ultimate badass hero in the slavery-era set revenge flick Django Unchained made it bearable. Racist slave drivers are gloriously cut down. A plantation house and its master are blown to bits. And evil house slave Stephen, played with despicable gravitas by the ubiquitous Samuel L. Jackson, meets a fitting end.          

2013: The Rise of Black Twitter

It started when a controversial Tumblr write-up entitled "This Is Black Privilege" landed on Twitter. The April 26, 2013, blog was your standard, racist, finger-wagging dreck disguised as serious-minded social commentary. Of course, there was nothing remotely serious about someone attempting to teach the "uneducated" on the privilege of the Black community enjoying such entitlements as BET, Black History Month and saying the N-word. 

The pushback was loud, fierce and at times funny AF, with one responder bristling, "#blackprivilege is being called 'girlfriend' by your white coworkers regardless of age or position." Huffington Post, Buzzfeed, Salon and other media outlets picked up on the bubbling social media movement. Black Twitter was officially born.   

2014: Shonda Rhimes Makes History

There was no bigger Black power move in 2014 than Shonda Rhimes delivering the ultimate TV hat trick. The groundbreaking showrunner was already basking in the glow of being the first African-American woman to create and executive produce a top 10 network series—the long-running medical drama Grey's Anatomy.

Seven years later, she introduced us all to world-beating crises manager Olivia Pope--played with scene-chewing zeal by Emmy nominated actress Kerry Washington--on the buzz-heavy water-cooler series Scandal. But Rhimes became the talk of the Hollywood industry when she took over ABC's entire Thursday night lineup, adding the deliciously devious legal series How to Get Away With Murder, starring Oscar- and Emmy-acclaimed goddess Viola Davis. The revolution was truly televised.   

2015: #OscarsSoWhite/Kendrick Lamar's BET Awards Performance (Tie)

When the 87th Academy Awards ceremony failed to nominate a single person of color, Black Twitter, led by activist April Reign, unleashed one of social media's most memorable protests: #OscarsSoWhite. Fans lambasted the film industry's sacred institution's seemingly vanilla obsessions in a year that included David Oyelowo's praiseworthy portrayal of Dr. Martin Luther King in the civil rights era movie Selma as well as the groundbreaking impact made by director Ava DuVernay. The rebuke caught fire.     

A few months later, another protest captured the imagination of the public. Kendrick Lamar's defiant yet hopeful landmark anthem "Alright" called out police brutality, systematic racism and self-destruction and became the rallying soundtrack for the Black Lives Matter movement. So when it came time for Lamar to perform the song on the BET Awards, he did so with a mix of unbridled anger and optimism as the best emcee of the decade rhymed on top of a graffiti-sprayed cop car with a mammoth American flag in the background. Mr. "Al Capone's Vault"-turned-FOX News talking head Geraldo Rivera blasted the statement as "disgusting." No matter. Lamar's soaring message cut through the bull---t. 

2016: Colin Kaepernick Takes A Knee

When the San Francisco 49ers quarterback refused to stand during the national anthem in protest of police brutality and lethal shootings against African-Americans and minorities in the United States, the bold August 26, 2016, public statement shook up the NFL and created national debate. 

"I am not going to stand up to show pride in a flag for a country that oppresses Black people and people of color," Kaepernick told the press. "To me, this is bigger than football and it would be selfish on my part to look the other way. There are bodies in the street and people getting paid leave and getting away with murder."

Kaepernick would soon take a knee in protest on national television after being advised by Seattle Seahawks long snapper and former Green Beret veteran Nate Boyer. But the price for such political defiance has been immense as the Super Bowl passer, who this year reached a multi-million dollar settlement with the NFL, has essentially been blackballed from the league. And he's still fighting the good fight. 

2017: 'Girls Trip' Brings Black Girl Magic To The Big Screen

The impact of the game-changing Girls Trip cannot be overstated. The laugh-inducing, unapologetically bawdy R-rated romp, starring Regina Hall, Queen Latifah, Jada Pinkett Smith and breakout star Tiffany Haddish, became the first comedy of 2017 to cross $100 million, proving again the bankability of Black women. The Malcolm D. Lee-directed film also made history as Girls Trip screenwriter Tracy Y. Oliver became the first African-American woman to pen a feature that hit the magical box-office mark. Not bad. 

2018: 'Black Panther'

When Black Panther became the first superhero film to be nominated for an Oscar in February of 2019, it capped off a remarkable run for the event flick. The Ryan Coogler-led cultural benchmark elevated Marvel's Wakanda protector and king T'Challa (Chadwick Boseman) into the public consciousness as the big-budget action drama went on to become the all-time highest grossing superhero movie in the U.S.

But Black Panther's unimaginable success meant so much more than dollars and cents. Black kids finally had a world-saving theatrical hero to closely identify with besides the likes of Spider-Man, Batman, Captain America and Ironman, proving once again that representation matters.  

2019: Netflix Documents Beyoncé's Coachella Triumph/Tyler Perry Bosses Up With Awe-Inspiring Film Studio Opening (Tie)

At times it looked effortless. Beyoncé's now legendary 2018 two-night Coachella stand was a swaggering celebration of Black female empowerment that jumped from a rich celebration of HBCU culture, a fiery Malcolm X speech, and a nod to the great Nina Simone to brass-fueled New Orleans second-line throw downs, trap music and twerking.

The fact that the presentation was so damn ambitious makes Beyoncé's Netflix concert documentary Homecoming all the more vital. It's a riveting portrait of an artist who painstakingly leaves it on the floor each and every performance, imploring her band and dancers to follow her obsessively driven lead to greatness. 

But while Beyoncé delivered plenty of Black star power, Tyler Perry turned it up to 11. The ever-grinding auteur broke new ground becoming the first Black person to own a major film studio. The October 5 grand opening Atlanta gala was an emotional star-studded affair that unveiled several soundstages named after some of Black Hollywood's most influential and beloved entertainers and visionaries. 

Tears were flowing as Perry announced tributes to Sidney Poitier, Oprah Winfrey, Spike Lee, Denzel Washington, Cicely Tyson, Halle Berry, the late Diahann Carroll, Ruby Dee and Ossie Davis and John Singleton. And the beyond sprawling compound isn't just for show. Bad Boys 3 and Coming to America 2 have already filmed on the 330-acre studio. Somewhere Oscar Micheaux is smiling.