Tyler The Creator Clowned His Homie A$AP Rocky During Crowd Surfing Debacle At Rolling Loud New York
Bruuuuuuh! Tyler the Creator wasted NO time trolling his boy. 😂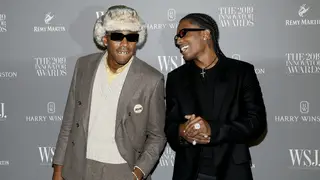 Tyler the Creator trolled his homie A$AP Rocky after the rapper tried to unsuccessfully crowd surf during his set at Rolling Loud New York on Saturday night.
Newsweek reported the 33-year-old emcee was performing with GloRilla and French Montana when he dove off the Fashion Nova stage. The fun moment went left after the overzealous crowd began grabbing the rapper, prompting security to come to rescue him.
The mosh pit madness caused his set to be cut short, leaving A$AP disappointed and apologizing to fans.
"I am so hurt right now! Last was supposed to be a turning point in my live shows from the old to new!" he tweeted." I will take full responsibility for the circumstances of what led to last night's show being everything it was and everything it wasn't. I also want to acknowledge that even tho I prepared the best show for my fans, detail for detail, over the course of MONTHS…I was unfortunately not able to bring my vision to fruition, and I'm hurt about that, and I want to apologize to all my fans and continued supporters, and thank y'all for showing up for me regardless!!"
Tyler took the wild moment to clown A$AP by changing his Instagram profile picture to the rapper's horrified face.
The Rolling Loud performance would be the Harlem emcee's last performance before he drops new music.
A$AP revealed, "I'm wrapping up the new album now. I've been shooting so many visuals for it. I don't want to be cliche or sound like a salesman, but I've pushed myself to the limit on everything."