Cardi B Starts Process To Garnish Tasha K's Bank Account
The process to seize property and assets from the YouTube blogger, who fled to Africa, has started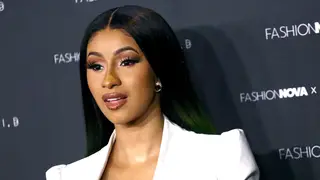 Rapper Cardi B is starting the process to seize property and assets owned by the YouTube blogger Tasha K after filing to garnish her bank account.
According to a court document, the "Money" artist should receive $3.3 million from Tasha K who has since moved to Africa. RadarOnline reports, "Cardi demanded Chase and its employees hold all of Tasha's property, money, wages and other assets, including property in safe deposit boxes or similar property."
BET.com previously reported that Tasha, whose real name is Latasha Kebe, was sued by the rapper for defamation, invasion of privacy, and intentional infliction of emotional distress.
The rapper won the case back in January 2022 with more than $2.5 million in damages and another $1.3 million in legal fees.
Kebe attempted to appeal the lawsuit to the U.S. Court of Appeals for the Eleventh Circuit claiming that Judge William Ray had "erroneously" excluded evidence about the rapper and her "character" claiming jurors did not get to see who she "truly is."
On her YouTube channel, Tasha K posted numerous videos about Cardi B. Some of which featured "information" about her life before fame including alleging sex acts during her performances as a stripper and that she had been a sex worker. Other commentary came after her fame such as allegations that she cheated on her husband, Migos rapper—Offset.
She has since been forced to remove the videos.