Former Wu-Tang Clan Affiliate Who Spent 23 Years In Prison Over Crime He Didn't Commit Awarded $7 Million
Grant Williams has been out on parole since 2019.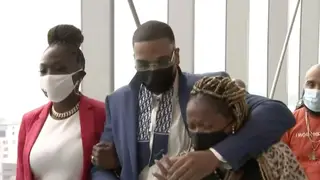 A former Wu-Tang Clan studio worker has reportedly won a lawsuit against New York City after spending 23 years in prison for a murder he was wrongly accused of.
The Associated Press reports the city will pay $7 million to Grant Williams, 51, who has been out on parole since 2019 and had his conviction overturned last July. He was accused and convicted of killing Shdell Lewis outside a Staten Island public housing complex in 1996.
"This will assist him in going forward and trying to get back on his feet," Williams' attorney, Irving Cohen said after Williams and the comptroller's office chose to settle his claim out of court, adding that the city "did the right thing." Additionally, New York state settled a different claim with Williams for $5 million.
Comptroller Brad Lander said he was happy that NYC was "able to move quickly to a fair and early resolution of this claim."
Williams' case took an opposite turn after a couple of witnesses, including a police officer, identified him as the gunman, though their description of the suspect didn't match Williams. A Wu-Tang baseball cap was reportedly left at the scene, which wasn't tested for DNA. In the past, Williams had worked at the legendary Hip Hop group's studio in Staten Island.
Other witnesses said the gunman wasn't Williams, and the prosecution didn't have any physical, forensic, or digital evidence that could squirrely pin the shooting on him.
"I used to tell everybody in prison I'm innocent," Williams said outside the courthouse alongside Wu member Ghostface Killah. "They say, 'Oh Williams, everybody says that.' I said, 'I'm telling you the truth. One day you're gonna see me on the news and they're gonna say that I was innocent,' and today's that day."