Ice Cold Rih!: Rihanna Debuts New Winter-Themed Fenty Beauty Products And Tests Them On Herself
The only makeup tutorial we've ever really needed.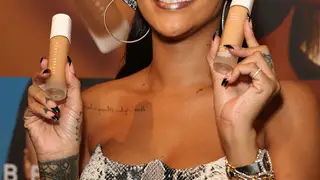 Once again, Rihanna is proving to us that she's a boss at everything she does. She's a singer, beauty guru, fashion designer and now, beauty vlogger?
Not only is our girl RiRi drop-dead gorgeous, but she is killing the makeup guru game. After the success of her first beauty master class, multi-faceted mogul Rihanna is now dabbling in makeup tutorials. And we are totally here for it.
She starts off with using her 7-pan highlighter palette basically everywhere. Rihanna uses the Stone Cold highlighter on the crease of her eyelid and says, "It's not too much drama, but it's still drama. You know us girls: We love drama." We especially love this dramatic look!
She then used the icy Chillz shade in the corners of her eyes and the purple and blue combination shade, Subzero, to fill in her eyelid and under her eye for her dramatic eye look.  
Rihanna moved on to her highlight how truly versatile her holiday palette can truly be. She uses her rosy, metallic Scandal'ice shade on her cheekbones as well as her cheeks. She then places some of the shade on her upper ears. Then, she used Stone Cold again, but this time on her collarbone.
To finish off her look, RiRi used No Chill from her Metal Lip Set. The frosted periwinkle shade was a perfect finish to Rihanna's New Year's inspired, purple look.
We can only hope that we'll look just as bomb as Rihanna during our office holiday party AND that she'll keep dropping these makeup tutorials. If you want to look just as icy as our girl RiRi, check out her full tutorial below: