Black Men Bring Lawsuit Against Columbus Police For Rejecting Them Over Past Minor Run-Ins With The Law
Moses Iverson and Darren Kendall claim white officers with far worse legal issues have been permitted to become officers in the Columbus PD.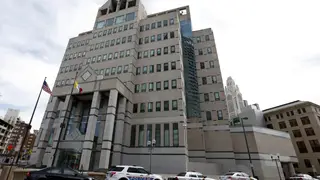 Two Black men have filed a federal lawsuit against the City of Columbus claiming they were not offered a spot in the Columbus police training academy because of race.
According to the Columbus Dispatch, Moses Iverson and Darren Kendall, who both applied to be CPD officers in April 2019, filed the suit in U.S. District Court in Columbus and say they were not offered a conditional spot in the 134th recruit class because of race.
The two men contend that white men with more-concerning backgrounds were offered spots over them. They both had previously filed discrimination charges against the city with the Ohio Civil Rights Commission, which determined in August that there was "no probable cause" and recommended the complaints be dismissed.
In a statement to The Dispatch, the city's Department of Public Safety said it couldn't comment on pending litigation, however, claimed "the City does not engage in, or tolerate, discriminatory hiring practices."
According to their federal lawsuit, both Kendall and Iverson scored in the top tier of candidates on a written test, and participated in oral board interviews and polygraph examinations.
In April 2020, the men received letters from the city informing them that their applications were rejected. Subsequently, both men reached out to ask why they were denied entry into the training academy.
The lawsuit states that Iverson was told he was rejected for failing to pay back taxes and a previous accusation of an inappropriate workplace comment. Kendall was told he was rejected because he had held several jobs over the last few years and had resigned from being a refuse collector with the City of Columbus for several "minor traffic accidents," according to the suit.
"These reasons were a pretext for race discrimination. These same, similar, or far more-egregious issues did not stop the city from hiring Caucasian applicants who, quite frankly, have no business being a police officer," the lawsuit said.
Six examples were provided in the lawsuit of issues involving white men and one white woman who were accepted into the same class Kendall and Iverson had applied to join. They point out a range of backgrounds that include admitting to paying prostitutes for sex, statutory rape, engaging in sexual activity while on the job, use of illegal drugs, including cocaine, heroin and MDMA, driving while under the influence, stealing money from an employer, and admitting to selling drugs.
"When a police department hires Caucasians who have, as one applicant was described, 'consistently showed a pattern of theft from places of work, drug usage, illegal sexual acts, and altercations with coworkers or supervisors,' over two qualified African Americans, then there is something wrong," the lawsuit said.
Kendall and Iverson originally filed complaints with the U.S. Equal Employment Opportunity Commission and were informed they could sue, according to the lawsuit.