Blac Chyna Trial: Tokyo Toni Threatens Judge In Kardashian Lawsuit
Toni's comments were heard in an Instagram Live video.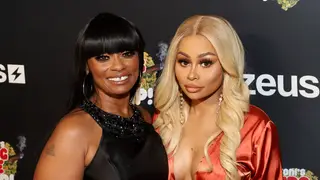 With the Blac Chyna's trial against the Kardashians underway, her mother Tokyo Toni took it too far in the courtroom after she allegedly threatened the judge.
According to TMZ, on Tuesday (April 19) Tokyo went off on Judge Gregory W. Alarcon while on her Instagram Live outside of the courthouse as the civil court case took place.
"I'm gonna get that judge," she is heard saying, reacting to Judge Alacron kicking her out of the courtroom from earlier in the day.
Tokyo, who has been active on IG, also posted an earlier video about the Kardashian/Jenner family that was filled with profanities and disrespectful claims about the family's appearance.
That video was also addressed in court, which resulted in the judge permanently removing Tokyo from the courtroom for the remainder of the trial.
In case you missed it, Blac Chyna sued her ex, Rob Kardashian, and his family back in 2017. She accused them of being the reason her reality series "Rob & Chyna" was canceled, claiming that the family held a personal vendetta against her.
Chyna is suing the family for $100 million alleging they destroyed her television career by defaming her and illegally interfering with her contracts and business dealing.