Prayers Up: Kelly Price's Mother Has Passed Away
The singer/songwriter confirmed the sad news in a statement on Sunday.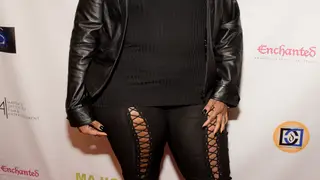 Kelly Price is asking for people to keep her family in their prayers amid the passing of her mother. The Grammy-nominated singer-songwriter's mother, Claudia Price-North, passed away over the weekend. On Tuesday (October 20), Price regretfully confirmed the somber news in a statement to the The Rickey Smiley Morning Show.
"It is with so many unexplainable emotions that I must make the acknowledgement that Sunday, October 18, 2020 my mother, Claudia Price-North took her last breath and said goodbye to the world," Price stated.  

Her mother's cause of death is unknown at this time. The "Friend Of Mine" singer went on to say that her mother's death was unexpected and has left her family shaken to the core. The message ended with a call for prayers for her family and a request for the public to respect their privacy as they mourn the loss of their loved one. 

"This is something I wasn't prepared for, none of us were and I don't know that anyone under any circumstances ever could be. Respectfully I ask for the sake of her husband, her sister, my sister and myself along with the rest of the family that we be given time to process this loss privately," she continued. "We know that Earth has no sorrow that Heaven cannot heal. We need healing right now, so please keep my family in your prayers."

Heartrendingly, Price later took to Instagram where she made an emotional post in an  outpouring of her feelings in response to her mother's passing.   

"2020 will not destroy me. 2020 will not take away my faith or my joy 2020 will be my year of overcoming some of the biggest blows the enemy sent! They formed but they will not prosper!" she issued. "Neither will they destroy my life. Even with my [broken heart] I know my life and my times are in His hands."

This comes after Price recently suffered the loss of her grandfather, Jerome Norman, from COVID-19-related complications in April. He was 94. 

"I'm grateful that I had him for all those years, but it just seems that for everything that he's lived through, surviving cancer on more than one occasion, surviving a heart attack on more than one occasion, coming through racism, being born in the South, just for the things that he survived, I guess for me it just feels crazy that it would be this that takes him from us," she told The Core 94 at the time.

BET sends its heartfelt prayers and condolences to Kelly Price and her family during this difficult time.