5 Things We Know About SZA's Upcoming Studio Album
The singer recently released her new single 'Shirt'.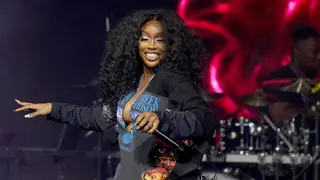 It's been five years since SZA dropped her critically acclaimed studio album Ctrl and the songstress is gearing up for her follow-up.
After releasing "Hit Different," the Grammy-nominated single "Good Days," and finally giving fans the full-length version of "Shirt" with a visual, it's no telling how close fans are to her dropping her next project.
Here are five things we know about the album ahead of it's release.
The TDE singer is teasing her third single 'PSA' and could be close to dropping her album soon.

One thing about this Scorpio goddess, she's going to tease a record at the end of each visual. After teasing her current single "Shirt" at the end of her "Good Days" visual, the singer repeated the cycle with featuring "PDA" at the end of "Shirt" and dropped a teaser clip of the former record's visual on her birthday. The 33-year-old then proceeded to caption the Twitter post with "clock starts now," leading people to wonder does she mean the release of the song, visual, or album….or all three?

Her new album could be named "SOS"

While the musician hasn't revealed the album title yet, in her latest visual for "Shirt," SZA is seen tattooing the phrase on her wrist while also spelling the phrase out in her teaser visual for "PSA." Hmmmm.

No features have been announced as of yet.

SZA has only collaborated with Ty Dolla $ign so far,  As fans anticipate her second studio album, she hasn't yet teased any musicians who may lend their talents to her project. Although things are under wraps, you never know what the Pop star has up her sleeve.

Is the release date for her album in her "Shirt" visual?

Fans have been speculating the album release date could be December 2022 as the month and year were present in the "Shirt" visual on a license plate. Will we get a Winter release from one of the new princesses of R&B? Is she teasing another single possibly? Only time will tell.

SZA is not in a rush to release the album.

In an interview with Complex, the singer shared how she's in "no rush" to release her second studio album.

"I live in my ideal situation," she said.

"I don't have any deadlines, because at the end of the day, when my shit comes out, it comes out. And if ever I lose my ability to choose, I have no problem vacating my current life and doing something different. I'm not glued to being an artist for the rest of my life or anything for that matter. I'm seeing where it takes me."

In the meantime, check out the visuals for "Shirt" below.