Former 'Bachelorette' Rachel Lindsay Says Sage Steele Was 'Thrilled' She Didn't 'Choose Black' On The Dating Competition Series
She described the sports anchor's views on race as "twisted."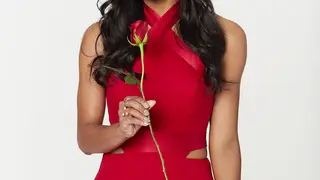 Sports anchor Sage Steele was recently pulled from ESPN after comments she made about President Barack Obama's racial identity, called the network's vaccine mandate "sick," and tested positive for COVID. Steele has been accused of being in the Sunken Place for years and former Bachelorette, Rachel Lindsay, recently revealed a tidbit that will only confirm those suspicions. 
While on Van Lathan's Higher Learning podcast, Lindsay claimed when she first met Steele four years ago, the anchor approached her to say she was overjoyed Lindsay didn't "choose Black" on the dating competition show. 
Lindsay explained, "I like Sage. She's a woman of color who had a long career in the media and I'm aspiring to this but then I'm listening to you and the first thing you say to me is how thrilled you are that I didn't choose Black. And I'm like… who is this woman? Since then I've started to learn more about how problematic she can be." 
Lindsay was also disgusted by Steele's comments about President Barack Obama's racial identity and his father. She called Steele "twisted" and someone who is "obsessed" with race. Lindsay also added Steele would not have made those comments if Obama's father were white.
In case  you missed it, while on the podcast Uncut with Jay Cutler, along with complaining about taking the coronavirus vaccine, she commented on Obama and his father, who died nearly four decades ago. 
The 48-year-old, who has an African American father and an Irish/Italian mother, identifies as biracial. 
"If they make you choose a race, what are you gonna put? Well, both," said Steele. "Barack Obama chose black and he's biracial…congratulations to the President, that's his thing, I think that's fascinating considering his Black dad is nowhere to be found but his white mom and grandma raised him, but okay. You do you. I'm gonna do me."
"Listen, I'm pretty sure my white mom was there when I was born," she continues. "And my white family loves me as much as my Black family."
Obama Sr. died in 1982 at 48 years old in an automobile accident when the future president was only 21 years old. 
It's been since 2000 that Steele, or anyone else, can check more than one race on the Census.
On Oct. 5, USA Today, Sage Steele apologized, saying in a statement, "I know my recent comments created controversy for the company, and I apologize. We are in the midst of an extremely challenging time that impacts all of us, and it's more critical than ever that we communicate constructively and thoughtfully."
It's unknown when Steele will return to ESPN.