Prayers Up: Porsha Williams Hospitalized In The Midst Of First Pregnancy
One of her "Real Housewives of Atlanta" co-stars shared some kind words.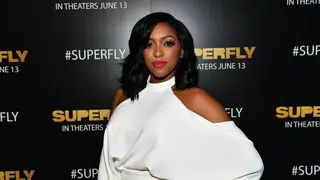 Sad news for Porsha Williams.
One of the Real Housewives of Atlanta cast member's co-stars shared, over the weekend, that the pregnant reality star has been hospitalized.
Williams' self-proclaimed "big sis," NeNe Leakes, took to Instagram on Sunday where she posted a photo of the pregnant star with an IV in her arm, assumedly insinuating that she has been hospitalized.
The RHOA OG captioned the photo, "Send some prayers and good vibes to our Tink Tink @porsha4real today."
Williams and her now fiancé of one month, Dennis McKinnley, are currently expecting their first child together.
The couple is yet to detail the nature of Williams' hospitalization.
We send our prayers to the star and wish her a speedy recovery.