Khloé Kardashian Posts Photo of True and Psalm Sporting Arm Casts
"They had a ball this summer", said Khloé.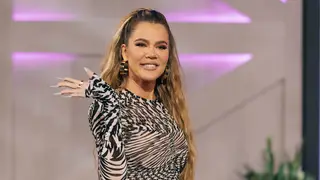 Some of the youngest members of the Kardashian family have had a summer to remember.
On Tuesday (August 8), Khloe Kardashian shared a carousel of images with her followers on Instagram that provided a glimpse into how much fun the Kardashian kids really had this season, according to PEOPLE.
In the photos, her baby girl True, 5, and Kim Kardashian's son Psalm, 4, are seen standing in what appears to be a gym as they show off their broken arms in casts. The kids have taken a liking to their famous parents fashion sense, as True and Psalm both color coordinate their arm wear with their outfit: True is wearing a pink shirt with matching shorts and a pink cast, while Psalm is wearing a black outfit with a black cast.
"Summer 2023/Cousin cast club/Trampoline and monkey bars/They had a ball this summer," Khloé captioned the post while seemingly hinting at how the kids injured their arms.
The girls made it a stylish pool day by sporting tie-dye swimwear with their hair tied back. In the video, True is heard asking, "You going to go first?" But Dream replied,"No you can go first."
The girls made it a fun team effort by holding hands, while testing the water's depth, then making it halfway in.