Kid Cudi Opens Up About His Beef With Kanye West
He says it'll "take a miracle" for them to be friends again.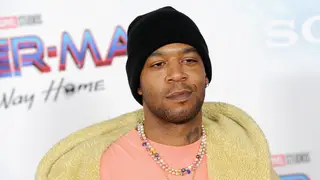 Kid Cudi has no interest in being friends with Kanye West again and explained why the chances of a rekindled friendship are slim to none in a new profile published by Esquire magazine.
In case you missed it, the two artists were once and frequent collaborators before their public falling out back in February 2022 after West removed Cudi's contributions from his Donda 2 album, citing Cudi's friendly interactions with Pete Davidson, Kim Kardashian West's former boyfriend.
"I've been on every one of that man's albums. He's only been on two of mine. That should tell you something," Cudi told Esquire about West. "And don't think I didn't ask."
Cudi went on to clarify that it shouldn't matter who he's friends with, and women come and go.
"If you can't be a grown man and deal with the fact that you lost your woman? That's not my f-cking problem. You need to own up to your sh-t like every man in this life has. I've lost women, too. And I've had to own up to it. I don't need that in my life. I don't need it," he said.
West later headed to his Instagram page and shared several anti-Cudi posts.
"Do you know how it feels to wake up one day, look at your social media, and you're trending because somebody's talking some shit about you?" Cudi said. "And then you got this person's trolls sending you messages on Instagram and Twitter? All in your comments? That shit pissed me off. That he had the power to fuck with me that week. That he used his power to fuck with me. That pissed me off. You fucking with my mental health now, bro."
In order to move forward, Cudi has decided that letting go of the friendship is the best course of action.
"The twisted thing is that I love him, but I love you so much that I can kick you the fuck out of my life and be done with your ass. 'Cause you are not good for me," he says, closing his sentiment with an affirmation popularized by the great turn-of-the-century philosopher Samantha Jones: "I love myself more. I love myself more." Cudi repeats it like a mantra, still addressing his former friend. "I didn't love myself all them years you knew me. I love myself more now, bro. I love myself way more."
Later adding, "It's gonna take a motherf***ing miracle for me and that man to be friends again. I don't see it happening."