Kanye West Pulls Out As Rolling Loud Miami Headliner, Kid Cudi Replaces
"We wish him the best," the festival's founder said in a statement.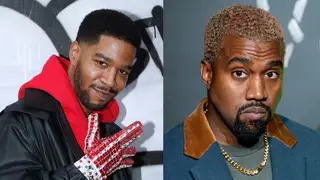 Just a week before the three day Rolling Loud Miami festival was set to take place, Kanye West pulled out. His replacement will be Kid Cudi.
According to VIBE, the festival's founders Tariq Cherif and Matt Zingler issued a statement about Ye's sudden withdrawal as a headline performer.
"We were looking forward to Ye headlining Rolling Loud Miami 2022. We spent months working with him and his team on the performance. Unfortunately, Ye has decided that he will no longer be performing. This is the first time a headliner has ever pulled off our show and though we don't take it lightly, we wish him the best. We look forward to welcoming Kid Cudi as a headliner in Miami and we can't wait to see what he has in store."
Grammy Award-winning Cudi will blaze the stage on Friday (July 22), the first of the three day extravaganza.
Ye appeared to be ecstatic about the performance and even urged Rolling Loud to reveal the July 2022 lineup at 8:20 p.m. on a Tuesday. They had planned to announce it days later.
Cherif said under a Rolling Loud IG post that he "tried to convince Ye to stay on the lineup but he wasn't having it."
Right now, it's unsure why Ye decided to not perform.
Under the same post, fans wondered why Travis Scott wasn't a go-to option as a replacement.
"Venue won't allow Travis because of Astroworld deaths."
In November 2021, Travis Scott's annual Astroworld festival tragically ended in the death of ten people, has plagued the rapper's career and has left an uncertainty when it comes to his performances.
Nonetheless, Cudi is looking forward to his performance and will be doing "some mixtape stuff  and other classics."
Future will be headlining Saturday (July 23) and Kendrick Lamar will headline Sunday (July 24).