Little Brother Discuss Their 'Made In Durham' Block Party And Celebrating Hip Hop 50
The festival commemorates the 20th anniversary of their debut album, 'The Listening.'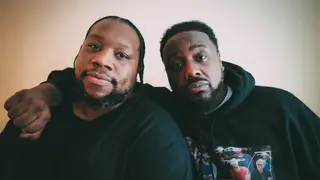 In hip-hop, Little Brother is regarded as one of the most prolific groups to emerge over the last 20 years. Comprised of Big Pooh, a native of Fairfax County, Virginia, and Phonte, who hails from Greensboro, North Carolina, everyone from Drake to Doja Cat has named them as influences.
Throughout their career, the duo released several critically acclaimed LPs, including The Listening (2003), The Minstrel Show (2005), Getback (2007), and numerous mixtapes that have solidified their status
In 2010, Little Brother broke up following the release of LeftBack. For several years, Big Pooh and Phonte concentrated on solo projects, managing artists, acting, and pursuing business interests while leaving their loyal fans wondering if they would ever get back together.
After reuniting for a performance at the Art of Cool Festival in 2018, they released their fifth album, May The Lord Watch, to critical acclaim. Hitting their creative stride as artists and businessmen, Little Brother announced their inaugural "Made In Durham" block party, which will be held on October 7. Hosted by comedian Sam Jay, Big K.R.I.T., The Cool Kids, and Zo! & Tall Black Guy are all slated to perform with DJs Hourglass and Wally Sparks on the one and twos.
BET.com caught up with the dynamic duo and spoke about celebrating Hip Hop 50 with their block party, producing their documentary, and advice they have for young artists in the game.
BET.com: After performing at festivals worldwide, how has it been for you to create Made in Durham in celebration of Hip Hop 50?
Big Pooh: It's been amazing but I think the biggest thing we thought about was the artist's experience. After going to different festivals,  we've seen how artists were treated and the blind spots that most people wouldn't have caught. We wanted to make sure we caught those. Also, we wanted to take care of the people. So when you're trying to pull off something like this, it's the little things you have to pay attention to. There are always the big things but when you're putting together something like this, it's the little things that you really have to be mindful of and pay attention to that you don't think about when you just pull up and perform.
Phonte: The focus becomes making sure everything goes off seamlessly. We've been doing shows for decades, so when it comes to performing, it's like riding a bike and we're always going to give our best. But at this point in our careers, anything that we wanted, we had to build ourselves. That's just something that I tell artists of all mediums. Now that we're on the production side, we wanted to curate the experience for our fellow artists and brothers and sisters in his game. We want them to have the same level of respect and care that we want to be treated with because we think that's something that's been missing because of the complete disregard for artists of all kinds. We see that with the  Hollywood strikes going on. The people who create the art are constantly being devalued. There are many moving parts, and 10 things can go wrong at one time [Laughs]. But have a great team that we're working with to make it happen.
BET.com: In your announcement of Made In Durham, you recreated Harlem Heat's hilarious WCW interview where Booker T. slipped up and said the N-word on live TV. What made you decide to reenact that classic promo?
Big Pooh: This is just a classic clip [Laughs}. Almost everybody knows about this clip for people who are into wrestling and those who aren't. It's just a funny clip, period. There's so much comedy within this clip that you can't even get it all in one view. We always talked about wanting to recreate that clip but it was just having the right thing to do it for because when you do that, it has to be for something special.
Phonte: You can't do that on a regular Friday [Laughs].
BET.com: Pooh, you're from Virginia, and Phonte is from North Carolina. What about being from those places that shaped you as Hip Hop artists?
Phonte: It was a mixture of a lot of things. I grew up in Greensboro, a big town with Greensboro College, Bennett College, UNC-Greensboro, and Winston-Salem State is 30 minutes up the road. So you had a lot of transplants coming in and bringing their music. And because we're on the East Coast and in the middle, a lot of traffic was coming through. I'll just say that [Laughs]. The people who were involved in the traffic brought their music with them. Hip Hop was something that started in the Bronx and spread out. But in the South, we were students of it.  Coming up in North Carolina, we had to know what was going on in New York, we had to know Florida with Luke, Chicago with Common, Doe or Die and Twista, and the West Coast. We had to know Texas with UGK, Memphis with 8-Ball and MJG. We were students of the game, you know and I think that just gave us a much sharper insight on making music and just a greater understanding of the culture overall. That's something that I pride myself on to this day. I remain a lifelong student of the game.
Big Pooh: Growing up in Northern Virginia was very similar but we had Go-Go. Because we weren't in New York, California, and Miami, we had to be students of everything and I always enjoyed listening to everything. When I got to school in North Carolina and met people who came from all over, they kept the music they brought from home. So from Virginia, Maryland, and North Carolina, we don't have a sound, so to speak, so we became students of everything. That's a North Carolina thing but that's also a Virginia thing.
BET.com: In addition to the block party, you're set to release May The Lord Watch: The Little Brother Story, a documentary about the meteoric rise, struggles, and evolution of the group. How was the process for you to tell your story?
Pooh: The documentary will show how we had to learn from each other. We had to learn each other's strengths and weaknesses. That's something that we have to grow through. When we took our hiatus, we had a chance to pursue our interests, which later strengthened us as a group. I think it was during recording May The Lord Watch that we started to understand each other. That was probably the most important thing that came out of that work. I can't wait for yall to see it.
Phonte: The doc will show everyone how we had to work through our sh*t. Also, it will show that we had to be the visionaries for our careers. Because if you don't know where you want to go, it doesn't matter if you're signed to Interscope, Cash Money, Roc Nation, or Bus Stop Records, if you don't know who you are, none of that will matter.
BET.com: Lastly, if you could go back and speak to young Pooh and young Phonte, what would you say to them?
Phonte: The advice I would give those kids, in the words of my brother Black Milk, "Ain't nobody coming down to save you."I would tell those kids to follow their instincts and just know that nobody knows what's best for your career better than you do. That's what, that's what, that's what I would say. You know, I think when we were coming up, I think for a lot of artists, there's always the idea that someone knows better, or there's like some kind of magical kingdom and like, there's just some, you know, there's just some magic wand and someone's gonna appear with or there's some person that's just going to meet and change your life and just show in, in our experience that just wasn't the case and our experiences. The people that we met along the way were helpful, and you know, we were able to meet but thankful to meet a lot of people along the way that didn't give us some good game and take the time to show us kind of stuff. But the work was still ours to do and the decisions were still ours to me. And that's just something that I think as young artists, it's that's hard to get your head around.
Big Pooh: Along the same lines, I would tell those young dudes that they may not have all the tools necessary now, but those can be acquired. But you have the vision. You've had the vision all along. You need to acquire the tools