Commentary: Sports Fans Can't Afford to Let History Die in Silence
Aging Willie Mays, Henry Aaron, Ernie Banks and Monte Irvin have tales we all need to hear.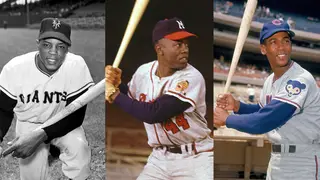 For this generation of sports fans, the names mean not a thing, which is a pity. Nobody expects the Jay Z-Beyoncé crowd to know or even appreciate ballplayers who filled stadiums when Louis Armstrong and Duke Ellington were popular names on the music scene.
They deserve it because Mays, Aaron, Banks and Irvin are surviving stars from the Negro Leagues, ballplayers who transitioned to unforgettable careers in the Major Leagues. They played with so much skill and flair and grace and grit in the big leagues that they went on to earn plaques in Cooperstown.
But what do those plaques portend when sports fans today have no historical memory of these men and their careers?
All of us who follow baseball should be saddened by that fact. We pray that we will have them around awhile longer, although only God can tell us if that's possible.
Now, we ask ourselves: Shouldn't we do something to teach this generation who these four men are?
A few years ago, the Negro Leagues Baseball Museum in Kansas City flirted with the idea of getting the four men together for a round-table discussion about their careers in the Majors and in the Negro Leagues. The museum had hoped to find a sponsor for the event, some deep-pocketed organization or a billionaire who might see the benefit of shining a public spotlight on sports yesteryear.
So here we are, years later, no closer to seeing these octogenarians sitting on a stage inside the museum and sharing stories about what was the golden age of Black men in baseball.
Soon enough, we will wake up and find one fewer of the four to talk to. Then the number will go from three to two, and then from two to one, and then they'll all be gone.
With each man's death will go a chunk of our people's history, a rich chunk of our people's history about what baseball used to be among Black folks and what it might never be again.
If baseball won't be that again, if baseball will never supplant football and basketball as the sport of choice among Black youth, those youngsters ought to carry into their old age stories about Mays, Aaron, Banks and Irvin and those glorious days when the Black boys of summer interested us.
Too much of Black history has already been lost or distorted, and we're surely about to lose a lot more of it if we can't get these four Hall of Famers, the only surviving Negro Leaguers who are inducted there, together to talk to us in the days—not months—ahead.
The sad truth is it might already be too late. Mays doesn't get around much anymore, and the 95-year-old Irvin, the oldest of the four, isn't as nimble as he used to be either. But if there is any chance of putting the four on stage, no matter how long the odds might be, we ought to do so.
Words alone, elegant or not, won't do it. Somebody—or a bunch of rich somebodies—needs to see what the museum saw and tried to do: make it possible for Mays, Aaron, Banks and Irvin to share their stories on Black baseball before they die.
Is anybody out there who can help?
The opinions expressed here do not necessarily reflect those of BET Networks.
BET Sports News — Get the latest news and information about African-Americans in sports including weekly recaps, celebrity news and photos of your favorite Black athletes. Click here to subscribe to our newsletter.
(Photos from left: Kidwiler Collection/Diamond Images/Getty Images, Hulton Archive/Getty Images, Louis Requena/MLB Photos via Getty Images)