State Trial Of Ex-Minneapolis Cops Accused In George Floyd Murder Moved To October
The prosecutor argued on the behalf of Floyd's family for a 'speedy trial.'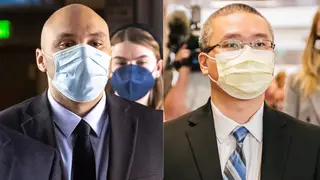 Jury selection is scheduled for October 24 in the state trial of former Minneapolis police officers Tou Thao and J. Alexander Kueng for their involvement in the 2020 murder of George Floyd, CNN reports.
Hennepin County Judge Peter Cahill announced the new trial date on Tuesday (June 21).
This is the second date change in the state trial of the two ex-cops who have pleaded not guilty to aiding and abetting second-degree unintentional murder and aiding and abetting second-degree manslaughter.
Cahill changed the initial June 13 trial date to January 5, 2023, after the defense filed a motion to change the venue or to continue the trial date, CBS News reported. He agreed that the June 13 trial date was too close to co-defendant Thomas Lane's guilty plea on May 18 in the state case and all three men's convictions in a federal trial in February. He apparently thought it would be too fresh in the memories of potential jurors to get a fair trial.
It turned out that the January trial date was unacceptable to the prosecutor and one of the defense attorneys, according to CNN.
Kueng's lawyer, Thomas Plunkett, asked the court to push the January trial date to April 2023 because he wasn't available from trial from January through March of next year.
But Minnesota Assistant Attorney General Matthew Frank argued that pushing the trial date back was unfair to Floyd's family. Citing the Victims' Rights Act, Frank maintained that a "speedy trial" was more appropriate.
"It's very traumatic to have this pushed out farther and farther. I never try to compare one family's trauma to another and it is important to remember what this family is going through," Frank said to the judge on Tuesday, according to CNN.
"The family has made a request for a speedy trial. What is being asked is for this family to wait until almost the third anniversary of George Floyd's death."
In the federal trial, Lane, Kueng and Thao were convicted of willfully violating Floyd's civil rights. The three former Minneapolis police officers were at the scene when ex-cop Derek Chauvin murdered Floyd on May 25, 2020, by pressing his knee on the handcuffed Black man's neck for more than nine minutes.
A St. Paul, Minn. jury said the three ex-officers showed "deliberate indifference to [Floyd's] medical needs" when they stood by and watched Chauvin kneel on Floyd's neck, ignoring Floyd saying that he could not breathe and bystanders pleading with them to stop.
After a two-week trial, a state jury convicted Chauvin on April 20, 2021, on all counts of murder and manslaughter, and sentenced him to more than 22 years in prison. Chauvin later pleaded guilty in December 2021 in a federal civil rights case to violating Floyd's civil rights.