GUILTY! Federal Jury Convicts Former Minneapolis Police Officers of Violating George Floyd's Civil Rights
Thomas Lane, Tou Thao, and J. Alexander Kueng officially contributed to George Floyd's death even though they had a chance to stop it.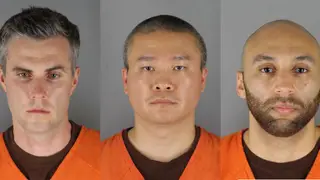 After withstanding a trial that lasted nearly five weeks, the three former Minneapolis police officers who were at the scene when Derek Chauvin killed George Floyd have been found guilty of violating Floyd's civil rights.
According to CNN, a St. Paul, Minneapolis jury claims former officers Tou Thao, J. Alexander Kueng and Thomas Lane showed "deliberate indifference to [Floyd's] medical needs" when they stood by as Chauvin leaned his knee into Floyd's neck for over nine minutes on May 25, 2020. Kueng and Lane, both rookie officers at the time, held down Floyd's torso and legs, while Thao hovered above holding back a crowd of bystanders from attempting to help Floyd.
The jurors also found Thao and Kueng guilty of an additional charge for failing to intervene to stop Chauvin. Lane, who did not face the extra charge, testified that he asked Chauvin twice to reposition Floyd while restraining him but Chauvin refused both times. Floyd's death was determined to be a homicide due to cardiopulmonary arrest brought on by the restraint and neck compression he faced at the hands of these officers. 
"Today's verdict recognizes that two police officers violated the Constitution by failing to intervene to stop another officer from killing George Floyd, and three officers violated the Constitution by failing to provide aid to Mr. Floyd in time to prevent his death," said Attorney General Merrick B. Garland. 
During the trial, it was determined by a current MPD lieutenant under oath that if an MPD officer observed another officer using too much force, the officer has a duty to intervene to stop it, regardless of rank or seniority. 
"The Justice Department will continue to seek accountability for law enforcement officers whose actions, or failure to act, violate their constitutional duty to protect the civil rights of our citizens. George Floyd should be alive today."
Civil rights and personal injury attorney Ben Crump and co-counsel Antonio Romanucci and Jeff Storms also released a statement today on the guilty verdict saying in part, These officers tried to devise any excuse that could let them wash the blood from their hands, but following these verdicts George's blood will forever stain them. Today's guilty verdicts should serve as the guiding example of why police departments across America should expand and prioritize instruction on an officer's duty to intervene and recognize when a fellow officer is using excessive force. With that being said, the existing policies were not on trial; rather, on trial were the human beings present when the breath was taken from an unarmed man right in front of them. Nothing will bring George Floyd back to his loved ones, but with these verdicts, we hope that the ignorance and indifference toward human life shown by these officers will be erased from our nation's police departments, so no other family has to experience a loss like this."
The incident sparked international attention and outrage thanks to a video taken by Darnella Frazier, then 19, showing the officers taking Floyd's life away after they were called to the scene over an allegedly counterfeit $20 bill.
Jacari Harris, executive director of the George Floyd Memorial Foundation, commented that, "we are grateful that today a jury found the other officers involved in George Floyd's killing guilty for their roles in his death.
"Nothing can erase the family's pain of losing George, but they are hopeful that receiving another measure of justice will serve as a reminder that change is coming in this country."
Chauvin, who acknowledges that his behavior led to the death of Floyd, was convicted last spring of  second-degree murder and manslaughter in a state trial and was sentenced to more than 22.5 years in prison. Lane, Kueng and Thao will face a state trial in June on charges of aiding and abetting in the killing. They have pleaded not guilty to those charges.