Sony Brings The Negro Leagues Into The Digital Era Through 'MLB The Show 23'
The cultural twist to the annual baseball sim video game blends education with entertainment as MLB Opening Day arrives.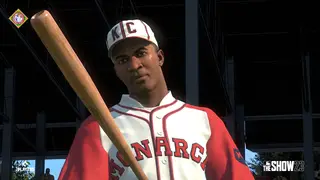 Annual video game sports sims like NBA2K or Madden NFL Football usually arrive a bit before the actual season starts while offering gameplay tweaks and team roster updates among other newer features. As the Major League Baseball season swings into focus, the latest MLB The Show entry is following suit, but with a cultural twist.
For the 18th entry of the storied baseball sim franchise developed by Sony's first-party development house San Diego Studio, they're adding a challenge based game mode called Storylines: A New Game Experience that will focus on the legendary Negro Leagues. The game was released this week in time for the beginning of the 2023 Major League Baseball Season, March 30.

Players will be able to complete various on-field challenges with the likes of Jackie Robinson, Satchel Page, Buck O'Neil and more with pre-game narration from Negro Leagues Baseball Museum president Bob Kendrick.
"This partnership with PlayStation helps us create a very significant and even more importantly, relevant connection to a story that many young people may not have heard about," Kendrick said in a statement. "We are always looking for avenues in which we can help enlighten, inspire and educate future generations about a piece of baseball and Americana whose significance is still playing out today."
That bridging of the gap includes MLB The Show making Storylines an annual feature where each yearly entry will include other players from the Negro Leagues. Players who complete the player specific challenges will also be able to use those players in other modes including the revamped Diamond Dynasty mode where gamers can create their dream baseball team using player cards.
That doesn't even count other influences the Negro League brought to baseball from night games to aggressive baserunning. Stepping in the shoes of Cuban-born player Martín Magdaleno Dihigo Llanos, a gamer can potentially play nearly every position during one game.
Serving as the liaison between the video game and real-life connection for MLB The Show 2023 is San Diego Studio Product Development Communications and Brand Strategist Ramone Russell who said development took nine months with a 200 people team. According to Russell, adding the Negro Leagues was a long time coming.
"I've been doing press for this game for 15 years and I always get the 'when are y'all going to do the Negro Leagues' question," Russell told BET.com. "So now, they're happy. Now we have this amazing opportunity to help educate, enlighten and inspire a younger generation of baseball fans in this really cool interactive game."
This is why players will have to unlock Negro League players before getting the opportunity to play as them in other gameplay modes. For example, not only will players get a chance to learn about Satchel Page but understand why he was one of the greatest pitchers in the history of baseball through the context of MLB The Show's pitching mechanics. The opening chapter has you reliving a historic game that requires players to strike out four players in one game.
Beyond the game itself, this year also as a charitable leaning as well. Sony will also donate $1 to the Negro League Museum and Jackie Robinson Foundation for every MLB The Show 2023 Collector's Edition sold in the United States. Russell explained that philanthropy is a value that the PlayStation brand holds dear to them as a company.
"Jackie Robinson has a lot of quotes and my favorite one of his is "a life is only important as the impact it has on other lives," said Russell. "So we can create that impact too because individually we have to be the change you want to see in the world. We're happy that not only are we doing our part to continue to tell the story of the Negro Leagues in a new interactive manner but we're making a financial contribution because that's what this is all about."
For Russell, the opportunity to push the historic league to a franchise that has sold millions of copies over the past decades is a new high for his career in the video game industry. In his early twenties, Russell was a police officer in Mobile, Alabama before quitting. After moving to Atlanta to figure out how to enter the video game industry, he was inspired by animator for Call of Duty, Mark Grigsby.
"When I saw his face I was like I see somebody who looks like me so I can do this too," Russell said. "That goes to show you why representation is so important."
Last week during this year's Game Developers Conference in San Francisco, there was a #WhatAGameDevLooksLike hashtag that become fairly popular during the event.  In a time where Black developers only make up around 6.2% of the video games industry, the Negro League being a marquee feature of MLB The Show 23 means something in terms of diversity in story telling. Meanwhile, the controversy over recent fantasy game Forspoken's low sales with Black Girl Gamers resulted in conversations about being involved with various aspects of development. For Russell, the moment for MLB The Show 2023 really goes to show why development teams need to be diverse.
"It's why you need to empower your women, your Black and Latino people, your LGBTQ+ people on your team," said Russell. "At some point you're probably going to want to tell those stories or they're going to want to tell those stories. They should be the ones who tell their own stories and be supported. I can't say enough about the leadership at Sony Interactive Entertainment that that's a priority. It has been a long time and we have a long way to go but it's a very big priority here."
MLB The Show 23 is available now on PlayStation 4/5, Xbox One, Xbox Series X|S and Nintendo Switch.