Commentary: Why the Negro Leagues' Hall of Game Matters
Dave Winfield, Joe Morgan, Lou Brock, Roberto Clemente enter shrine in a salute to Black baseball.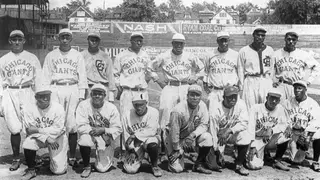 Maybe it's not as big a deal as Cooperstown, but no baseball fan can dismiss as utterly insignificant the honor the Negro Leagues Baseball Museum bestowed on four Black ballplayers who are already in the National Baseball Hall of Fame.
On a Saturday night in Kansas City, the museum welcomed Dave Winfield, Lou Brock, Joe Morgan and Roberto Clemente into its inaugural class of the "Hall of Game."
The museum wasn't trying to upstage the storied Cooperstown. No institution could do that, even if it tried. Instead, Bob Kendrick, president of the museum, wanted to keep alive the legacy of the men who played in a league where only the ball was white.
The museum has long ago honored the greats of "Black baseball." Stroll through the gem of a museum, about a football field or so away from where Rube Foster founded the Negro Leagues in 1920, and you will see salutes to Satchel Paige, Josh Gibson, Buck Leonard, Willie Wells, Leon Day, Hilton Smith, Willard Brown, Cool Papa Bell and Oscar Charleston.
The salutes will mesmerize anyone who takes a tour. For he will hear what the game was like back in the day. He will also hear about how central to urban life baseball was before it lost its bearings and gave way to football and basketball.
And the ballplayers of the earlier era? They were iconic figures. They lived in the community; they enjoyed the restaurants, the nightlife and everything else that men with a little bit of money might be expected to enjoy.
Mostly, though, they enjoyed playing baseball, and they played in ways that white players couldn't and that white fans didn't see in their segregated world.
Kendrick has often spoken about the color of "Black baseball," and he wasn't just talking about skin color.
He and others who have written about or researched the Negro Leagues have all come away enriched by what they discovered. They found tale after tale so tall that nobody would believe any of it, but they also found a reality so rich and so textured that nobody was ready to believe those stories either.
What they discovered most is that the ballplayers loved the game as much as anybody in the big leagues did. Black ballplayers never dared to cheat the fans; Black ballplayers gave those who cheered them priceless entertainment for the dollars.
The Hall of Game is celebrating those who came after integration ruined the Negro Leagues. The Hall looks at those who did follow Satchel and Buck and Cool Papa Bell and Josh asked a simple question: Would they have given fans of yesteryear worth for the dollars?
For the inaugural class, the answer was yes. In Winfield, Morgan, Clemente and Brock, the Hall of Game installed a class that could have had a legitimate right to claim a place in the 1939 inaugural class of Cooperstown, a class that included Babe Ruth, Honus Wagner and Ty Cobb.
The Hall of Game isn't a knock-off of Cooperstown; it's much more than Cooperstown could ever be. It's about a people and their icons, star ballplayers who haven't always gotten all the due their on-field artistry deserved.
The opinions expressed here do not necessarily reflect those of BET Networks.
(Photo: Mark Rucker/Transcendental Graphics, Getty Images)