20-Year-Old Dies After Collapsing During Fraternity Accused Of Hazing's 'Gold Paddle Day'
Tyler Hilliard previously had to eat an entire onion covered in hot sauce and get paddled by a cactus.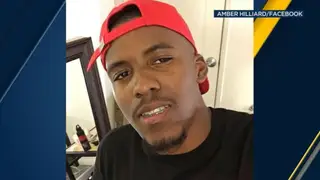 The mysterious death of a 20-year-old UC Riverside student who collapsed during a fraternity run to Mt. Rubidoux has police investigating if hazing is to blame.
Tyler Hilliard died while pledging to Alpha Phi Alpha, a well-known Black fraternity whose members include Martin Luther King Jr. and Thurgood Marshall. Although Hilliard's family isn't certain hazing caused the student's death, they believe his death was not from natural causes, reported the Los Angeles Times.
"I'm not saying that his death was a direct result of hazing. I don't know that for sure," Hilliard's mother, Myeasha Kimble-Hilliard told the Times Tuesday. "But I believe something happened that led up to his death."
The incident occurred around 9 p.m. on Saturday when the fraternity organized a run on the hiking trail. Hilliard complained he was feeling short of breath and then collapsed, prompting the fraternity's pledge master to call 911, Kimble-Hilliard said.
Riverside Police Officer Ryan Railsback said detectives are investigating whether hazing played a role in Hilliard's death as officials have labeled his death as suspicious.
Although Hilliard's body did not show any obvious signs of trauma, police are still waiting for the autopsy report that could help them determine if his death was caused by a medical issue, hazing or something else, Railsback said.
"It's just not the easy whodunit type of case," he said. "There's a lot of unknowns about this."
Hilliard's family said after his collapse, they later discovered text messages on his phone referring to the Mt. Rubidoux trip as "gold paddle day."
Kimble-Hilliard said she found texts that revealed her son had been forced to eat an entire onion covered in hot sauce, forced to drink large amounts of water and was paddled with a piece of cactus during his pledging process.
She said she took Hilliard to the emergency room several weeks ago after he complained of chest pain, which likely occurred after he ate the onion. At the time, Hilliard was prescribed medication for heartburn and tests at the hospital did not turn up anything unusual, Kimble-Hilliard said.
Investigators will be looking toward members of the fraternity for information.
"Historically, there's an aspect of secrecy in fraternities," Railsback said. "We would hope that would go out the door if something bad happened to a member. We would hope whoever is involved would come forward."
The UC Riverside chapter of Alpha Phi Alpha could not be reached for comment. The national fraternity organization said Tuesday that it has launched an investigation in partnership with the university and placed the chapter on an "immediate cease and desist status," which suspends all of its activities.
UC Riverside also has a zero-tolerance policy for hazing, according to the university.