Exclusive: Amanda Seales Wants You To Lighten The F*ck Up
The actress and comedian discusses "Insecure," Issa Rae's Emmys moment and more.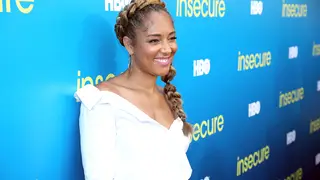 At a time when the new generation of Black female comedians are sparse, Amanda Seales is one of the most important voices out right now. Giving us that raw, shoot-from-the-hip comedy that provides us with laughter and truth.
BET had the privilege of attending Amanda Seales' brilliant live comedy game show, Smart Funny & Black. It is a show that is a cross between In Living Color and The Chappelle Show, where contestants  — comedy writers and famous musicians — compete in various games to test their deep knowledge of Black culture. By the end of the show, a winner is crowned and added to the "Illustrious League of Master Blacksperts."
We chatted with Amanda afterward to discuss the show, the Emmys and the future of comedy.
What is Smart Funny & Black all about?
The show is basically a comedic yet academic look at Black history, Black culture and the Black experience. It's something that is very much missing in the grand scheme of things and is finally getting some push with shows like Atlanta and shows like Insecure, but in the unscripted space, we need this.
It doesn't take much to set Twitter off. Are we too sensitive?
Absolutely. It think there's a sensitivity, but I think it's also just, like, a higher awareness and I think a lot of times the sensitivity is rooted in an intention to not hurt people, so you have to commend that, but I think sometimes when we are kind of hypersensitive, we hurt ourselves by not allowing ourselves the opportunity to make fun of ourselves, to find levity in situations, and reality is there's a lot of f**k s**t going on, so you've got to learn to laugh.
What do you think about white people being mad at Issa Rae for her "rooting for everyone Black" comment?
Who cares? Moving on. Why are white people made at Issa Rae?
How has the public's reaction been to your character on Insecure?
They're like, 'Her personality in real life is better than her personality on the show,' and I'm like that's a character, it's not a person [in] reality. It's great, though, because when people take things personal, they're not just fans, they're supporters.

Where do you see comedy going?
I, of course, want to do more stand up and do a special… It's like if you do stand up, your goal is to do specials and then you get a TV show, but at the end of the day, the core is, can you stand on that stage and tell jokes that move people to laughter. For me, it's not just moving them to laughter, it's moving them to change.