Interesting: Why are Rob Kardashian and Blac Chyna Rushing Down the Aisle?
The couple is planning to be married way sooner than you think.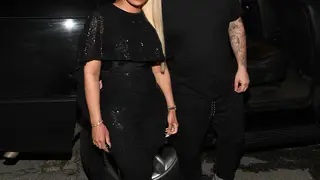 "Angela Kardashian" could be a real thing much faster than we think. Days after Blac Chyna and Rob Kardashian broke the internet with their engagement news, a source tells TMZ that this won't be a prolonged Hollywood engagement. Rather, the two lovebirds, who first went public with their romance just three months ago, want to be married as soon as possible. Like, maybe even before the end of the year.
So, why the rush? Could it be because the Kardashians put Rob on blast for being a "serial proposer" and don't believe the ring on Chyna's finger is for real? Or some other pressing reason (bump watch begins in five, four, three, two...)?
We don't know the why, but there are already some rumors as to the where. Apparently, several Las Vegas quickie wedding chapels are offering to roll out the red carpet for ChyRo. Little Vegas Chapel is offering the couple two Elvises, two showgirls and a pink Caddy convertible for pick up and drop off. Meanwhile, the famous Little White Wedding Chapel says they will provide a helicopter ceremony above the strip. They'll even throw in ground transport with a 14-seat Hummer for the whole family, if they RSVP.
And speaking of the family, the couple are trying to make amends with Rob's family and want the entire Kardashian-Jenner clan at the wedding. So far, the only people from the famous group to even acknowledge the engagement have been Kim Kardashian and Kanye West. So, looks like they have a long way to go before Kylie Jenner will agree to be a bridesmaid.
As for the rest of the wedding party, we already know Amber Rose will be Chyna's maid-of-honor. Muva was among the first to congratulate ChyRo on their relationship status, and even created a special MuvaMoji for them as an engagement present:
With all the couple drama at play, this is cut out to be the most awkward wedding in recent memory. Catch up with all the hoopla around their engagement with BET Breaks, below: