Here's the One Person Who Allegedly Could Have Stopped Tupac's Death
According to Faizon Love.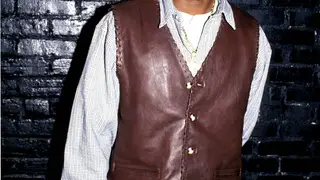 Tupac Shakur's mixed-reviewed All Eyez on Me biopic has spurred much conversation and controversy around the most pivotal events during the West Coast icon's roaring hip-hop run to legendary status.
That includes the event of his untimely death in September 1996 as well, which San Diego-bred actor and comedian Faizon Love has attributed to his relationship, or lack thereof, with Snoop Dogg.
During an Instagram Live session, Love aired his thoughts that Snoop, Pac's close friend and fellow West Coaster, may have been able to stop Pac's demise by way of his L.A. Crips affiliation.  
"I always felt when Pac died it was because — Snoop could have stopped the whole thing," Love said in the video. "I mean, because like I said, Snoop was a Crip. Pac affiliates were Crips doing some gang s**t. Some dumb n***a gang s**t, really."
Love added that Pac's tension with Snoop set off a "chain of events" that ultimately led to Pac's death. Had Pac "not crossed Snoop," he concluded, the Death Row Records signee would still be living today.  
"Just think about it," Love said. "All the songs that Pac did, he only did one with Snoop."
In the film, Snoop and Pac's relationship is initially depicted as one of mutual brotherhood. That is, until Pac is angered at what he considers to be Snoop's fence-playing commentary during a Hot 97 interview. As portrayed in the movie, Snoop says he is friends with both Pac and Pac's New York rap rival, Notorious B.I.G., during their beef, which leads Pac to snub Snoop and shift the dynamic of their longstanding friendship.
Snoop hasn't come forth to confirm the film's happenings as depicted nor Love's commentary just yet. Before (or if) he does, check out the comedian-actor's thoughts on the previous relationship between both West Coast rap stars in the video below.