Ice Cube Reportedly Negotiating To Sell Some BIG3 Basketball League Teams
The rapper turned entrepreneur has made big moves since co-founding the league in 2017.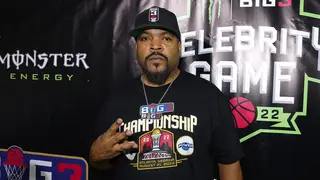 BIG3, the basketball league co-founded by rapper and actor Ice Cube, is negotiating to sell some of its 12 teams to outside investors in a shift to the franchise model used in the NBA and other major sports leagues, Bloomberg reports.
The league has owned all of the teams since its inaugural season in 2017. A BIG3 representative declined Bloomberg's request to comment. The publication cited an unnamed person with knowledge of the private discussions as its source of information.
Unlike NBA games, BIG3 matches are half-court competitions in which the teams compete to reach 50 points and must win by at least two points with a 14-second shot clock. The matches pit former professional NBA and international basketball players against each other in 3-on-3 matches.
BIG3 has focused on innovation, including the introduction of its unique Forever Experience Action Tokens (FEATs). It leverages blockchain technology to sell NFTs (non fungible tokens) to fans, offering ownership-like benefits and real-world experiences.
Among its other moves to spur growth, BIG3 Cube has been busy pitching the league to advertisers to win more sponsorship deals.