Brandy Responds to Pregnancy Rumors
The singer's daughter also chimed in.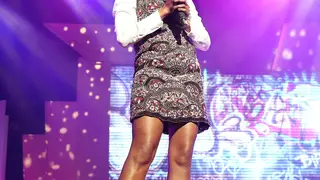 Is Brandy the queen of trolling?
The singer became the talk of the internet early this morning when she posted a photo of herself — with what appears to be a protruding belly — to Instagram with an introspective caption dedicated to God, reading, "I can finally see you in me." Now, after her fans started showering her with congratulations and "girl whys," she's responded to the rumors and her daughter's got her back.
This all started when, following the posting, Brandy's former Moesha co-star — and frenemy-turned-friend again — Countess Vaughn congratulated her on the "news," writing in the comments, "Congrats on the baby I'm sooooo happy for you and I love you."
With some time passing and Brandy's fans not knowing what to believe, the singer's 14-year-old daughter, Sy'rai Iman Smith, took to social media to refute the claims about her superstar mother.
"My mother is not pregnant," she captioned a Snapchat post. "I'm not gonna have any more siblings. I like being an only child. Thank you lord. She just ate chocolate cake and pancakes everyday. I was there."
The singer also shut down the claims herself by changing her Instagram bio, letting everyone know that she's not expecting and was, actually, just eating a lot.
Well, there you have it. Nothing to see here.
See Brandy chat with Jill Scott for Inspi(HER), above.