Lena Waithe On Gender & Racial Progress In Hollywood: 'We Still Have A Lot Of Work To Do'
The game is changing, but are the players?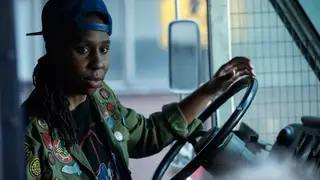 In Steven Spielberg's sci-fi retro-gaming thriller, Ready Player One, Lena Waithe is an avatar for cool strength and intelligence who is changing the game, and in real life the Emmy winner is no different. In 2018 she is the embodiment of embracing ones true self and succeeding on your own terms. Our Great 28 honoree recently graced the cover of Vanity Fair and became the first Black woman to win an Emmy Award for Outstanding Writing for a Comedy Series. But is she encouraged by the progress in closing the racial, gender and sexual identity gap that her success represents?
"I mean, look we still have a lot of work to do. But I am encouraged by the strides we're making right now in terms of what's happening with Black Panther and TV shows like Atlanta and Dear White People. I think it's a different kind of inclusion happening now. Because you have people who, yeah, they're Black, but that's not always why they're given opportunities. Like, you've got really talented people in positions to make some really cool art. I think now the next step is to have a Black president of a studio. We still don't have that yet. We've had a Black man lead the free world, but never a movie studio. I would like a CEO of a network be African-American."
Waithe's character, Helen, spends most of Ready Player One in the virtual world as her brawny avatar Aech, but her representation was still important, as the book character was also a openly gay Black woman. The film explores the power of anonymity on the internet, but in real life Waithe is a very open and active user of social media who doesn't feel the need to hide from trolls behind an avatar.
"You know, I'm pretty blessed. I don't get too many trolls. People are always really kind. Sometimes people have a really passionate opinion about something of mine they don't like. Rather than block them or go at them, I always say, 'Hey man, I respect your opinion, all good.' And usually they respond surprised that I responded. But they're really surprised that I responded with love and kindness. So that's what I always try to to."
But don't get it twisted, she will report your butt if you get out of line.
"If somebody's being harmful or abusive I think it's our job, on Twitter, to be our own police.  The great thing is Twitter has this thing where you can report someone's Tweet if it's harmful. And I always feel great when I do that because I'm doing my part to keep Twitter a fun place for everybody to talk and chat and hopefully spread love and positivity."
Ready Player One is in theaters March 30.