John Thompson Becomes First Black Chairman of Microsoft's Board
John Thompson is named as chairman of the board of Microsoft, the second chairman and first African-American in the company's history.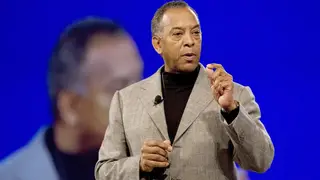 John Thompson, a seasoned Silicon Valley executive, has been named as the new chairman of the board of Microsoft, succeeding Bill Gates.
Thompson, who is chief executive of San Jose-based software company Virtual Instruments, is the second chairman of Microsoft and the first African-American in that position.
It is a landmark development in an industry where the ranks of African-American executives are particularly thin. Thompson is a former chief executive of Symantec. He has been a member of Microsoft's board of directors for two years. He also led the company's search for a new chief executive, an effort that resulted in the naming of Satya Nadella.
Technology industry experts said the leadership change represents an effort to move more quickly into mobile devices and other growing markets. That strategy, they suggest, might well enable Microsoft's sales to rebound. The company has seen its sales decline largely as a result of lower sales of personal computers, which use the company's software.
Microsoft said Thompson would not be available for interviews. However, in a video on the company's website, Thompson addressed stockholder concerns that Microsoft hasn't been performing up to expectations.
"As part of my new role," he said, "one of my key contributions, I hope, will be to engage with shareholders and keep focused on how together we can bring great innovation to the market and drive strong, long-term shareholder value."
For Thompson, the chairmanship represents a significant professional achievement in a long career in Silicon Valley.
Thompson, one of the few African-American chief executives in technology, was raised in South Florida by working-class parents, a teacher and a postal worker, where he played clarinet and saxophone in school, earning a band scholarship that sent him to college in Missouri.
He earned a bachelor's degree from Florida A&M University and a master's degree from the Sloan Fellows program of the MIT Sloan School of Management in 1983.

BET National News - Keep up to date with breaking news stories from around the nation, including headlines from the hip hop and entertainment world. Click here to subscribe to our newsletter. 
 (Photo: David Paul Morris/Getty Images)