[Warning: Graphic] You Won't Believe What L&HH's Hazel E Is Doing to Her Vagina
Don't try this at home.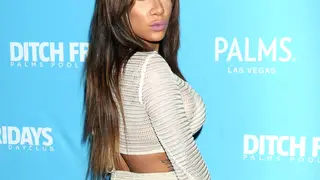 Love & Hip-Hop star Hazel E is known for showing stuff off on social media, without any boundaries, but her latest polarizing post was a bit much, even for her.
The reality star live-streamed her vaginal rejuvination process for all of her fans to see, and she's received some mixed reactions.
In an attempt to defend her decision, she said it was a no-brainer as she was told by her doctor that the treatment would "increase her orgasms" and "make her vagina look like she's 16 again."
The medical office that specializes in the procedure also shared a comment on Hazel's decision. Take a look at what they had to say and watch the video at your own risk, below: