Ex-NFL Player Rae Carruth, Who Hired Hitman To Shoot Pregnant Girlfriend, Released From Prison
He will not be in contact with his 18-year-old son, who was born with cerebral palsy as a result of the shooting.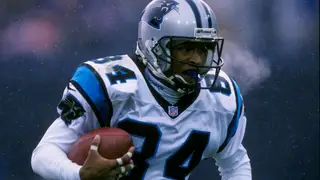 The former NFL wide receiver, who hired a hit man to kill his pregnant girlfriend to keep from paying child support, has been released from prison after spending nearly 19 years behind bars.
Carolina Panthers receiver Rae Carruth was released Monday from a minimum-security facility at Sampson Correctional Institution in Clinton after being convicted of conspiring in the murder of his pregnant girlfriend, Cherica Adams. It remains unknown who picked up Carruth, the Charlotte Observer reports.
He must now regularly meet with authorities throughout the next nine months as part of his post-release conditions, according to the newspaper.
Back in 2001, a jury convicted Carruth of hiring someone to kill 24-year-old Adams, who was seven months pregnant with Carruth's child. The couple's son was later born via an emergency Caesarean section and has been raised by his grandmother.
His 18-year-old son, Chancellor Lee Adams, was born with cerebral palsy as a result of his mother's shooting.
Although Carruth was trying to reconnect with his son while awaiting his release, in March, he gave up trying to see his son, saying leaving him alone is in "everyone's best interest," reported the Charlotte Observer.
Adams, who turns 19 next month, has lived with his maternal grandmother, Saundra Adams. Two years ago, Saundra said she planned to meet Carruth with Chancellor at the prison gates upon his release; however, those plans obviously changed. 
"We're not going," Saundra Adams told the newspaper Sunday.
Carruth told WSOC by phone last week that he "just truly" wants to be forgiven for the 1999 killing.
"I'm excited about just being out there," he told the station. "I'm nervous just about how I'll be received by the public. I still have to work. I still have to live. I have to exist out there and it just seems like there is so much hate and negativity toward me."
The man who shot Cherica Adams, Van Brett Watkins, was hired by Carruth and was sentenced to serve a minimum of 40 years behind bars.