Tory Lanez's Attempt To Disqualify Judge Fails Before Sentencing
The Toronto rapper's legal team claimed there was bias against their client.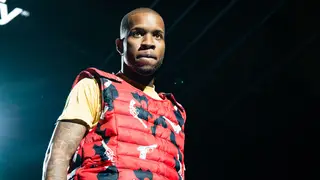 Tory Lanez's legal team is trying every last maneuver to keep their client free.
In a motion filed by attorneys Matthew Barhoma and Jose Baez on May 19, the Toronto rapper's defense asked that Judge David Herriford be removed due to alleged "favoritism" toward the prosecution.
Independent law reporter Meghann Cuniff notes that Barhoma and Baez stated in their appellate petition that the judge made them present their arguments in his preferred order rather than how they had planned.
Additionally, they alleged in the petition filed last month, shortly after Lanez was denied a new trial, that the judge didn't allow them to call live witnesses and would continuously interrupt them during arguments they made.
"Conversely, the Judge gave the People a full and fair opportunity to present argument uninterrupted, even when the case cited by the People did not stand for the proposition that they advanced," Lanez's defense motioned. "Together, these facts reveal such a high degree of favoritism or antagonism as to make fair judgment impossible. Given these facts, a reasonable person would fairly entertain doubts concerning the Judge's impartiality. As a result, disqualification is required."
During the second day of trial, after the lawyers stated they'd filed to get him dismissed from the case, Judge Herriford had reportedly prepared a "verified answer."
"I am not prejudiced or biased against or in favor of any party to this proceeding or their counsel," he wrote in a statement. "All rulings made by me in this action have been based upon facts and arguments officially presented to me and upon my understanding of the law. All statements made by me and all actions taken by me in this proceeding have been done in furtherance of what I believe were my judicial duties."
Despite this recent development, Tory Lanez is still scheduled to be sentenced next week.