Prosecutors Want Tory Lanez to Serve 13 Years for Megan Thee Stallion Shooting
The declaration was made in a memorandum filed on Tuesday.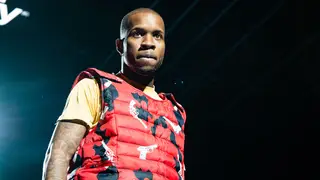 If prosecutors get their way, Tory Lanez will serve 13 years in prison for shooting Megan Thee Stallion in July 2020.
According to independent legal journalist Meghann Cuniff, who has been covering the trial proceedings since the beginning, a memorandum was filed on Tuesday (June 6) by prosecutors hoping the court will consider the Toronto rapper's "campaign of misinformation" against his victim during his eventual sentencing.
"Words have power and the pen is oftentimes mightier than the sword. In this case, Daystar Peterson (Tory's real name) used both. Not content to have hurt the victim by use of his sword (gun), he also used his pen. His online posts for nearly three years have re-traumatized the victim."
Additionally, the memo cites Lanez's comments, which "emboldened" his followers and casual observers to harass the Houston rapper online and cast doubt on his role in the shooting. They also cited his "full-length album with several songs about the shooting."
On May 8, Tory Lanez pleaded with a judge for a new trial and to not "ruin" his life. On December 23, he was found guilty of all three of his charges, including felony assault with a semiautomatic firearm, possession of a concealed, unregistered firearm; and discharging a firearm with gross negligence, over the July 2020 shooting that took place after a Hollywood Hills party.