5 Sundance Shorts to Keep On Your Radar
These projects spotlight the next generation of vanguard Black filmmakers.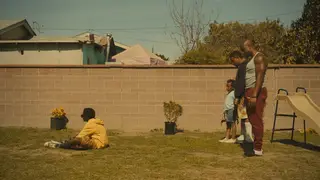 'Don't Go Tellin' Your Momma'

Director(s): Topaz Jones, Simon Davis, rubberband.
Writer(s): Topaz Jones, Simon Davis, rubberband.
Starring: Rodney Jackson, Emma Janice Jones, Topaz Jones

In 1970s Chicago, the Black ABCs were an alphabet flashcard set developed by two teachers and the Society for Visual Education to subvert the vastly white educational landscape Black children were forced to endure. Topaz Jones and the creative collective rubberband. collaborated on Don't Go Tellin' Momma to reimagine the teaching materials for today's generation in a highly imaginative way.

With great original music by Jones, trippy visuals by cinematographer Chayse Irvin, Don't Go Tellin' Your Momma takes us through 26 poignant vignettes meant as a raw, unconventional exploration against anti-Blackness that will make you and others feel seen in a wholly unique way.

'F**K '€M R!GHT B@¢K'

Director(s): Harris Doran
Writer(s): Harris Doran, Emmanuel "DDm" Williams
Starring: Emmanuel "DDm" Williams, Kara Young, Catherine Curtin

This comedy finds us following the hip hop adventures of Sammy (Emmanuel "DDm" Williams) and his aspirations to be a famous performer. His horrible boss (Insecure's Catherine Curtin) wants to fire him, but the queer rap god must outwit her vengeful drug test plans, which are complicated after he accidentally eats an edible.

With his job on the line and incapable of funding his rap hopes using any other means, Sammy and his friend Yolanda (Kara Young) throw caution to the wind, deciding that the best way to knock the boss and company that's f***ing them is to f**k them right back.

'Hallelujah'

Director(s): Victor Gabriel
Writer(s): Victor Gabriel
Starring: Richard Nevels, Stephen Laroy Thomas, Mariah Pharms

In Victor Gabriel's traumedy short, Hallelujah, two brothers named Chetty (Richard Nevels) and Paper (Bruce Lemon) are stuck with the guardianship of their "annoying, bookworm nephew" named Hallelujah (Stephen Laroy Thomas). 

With Hallelujah forcing the brothers to weigh whether or not to take on the responsibility of being caretakers to him and his sister, plated by Mariah Pharms, this short film is a funny, truth-bearing exploration into the different measures of grief and should be added to your must-watch list ASAP.

'Sub Eleven Seconds'

Director(s): BAFIC
Writer(s): N/A
Starring: Sha'Carri Richardson

This Virgil Abloh-executive produced short places audiences right alongside sprinter Sha'Carri Richardson. Sub Eleven Seconds is a poetic imagining of the quest of the breakout Louisiana State University track star to achieve her dream of qualifying for the 2020 Olympic Games. 

A question posed to her, "What do you fear?" takes us through the highs of training, the lows of losing her biological mother on the eve of her run, and the behind-the-scenes moments that went into Richardson's training where every nanosecond counts without fully delving into the controversy that became attached with the moment.

'Precious Hair & Beauty'

Director(s): John Ogunmuyiwa
Writer(s): John Ogunmuyiwa
Starring: Tomi Ogunjobi, Adjani Salmon, Kemi Lofinmakin, Michael Akinsulire

John Ogunmuyiwa is a wonderful filmmaker out of London, whose past work — Wilson and Mandem — have won awards and nourished his role as a creative. In Precious Hair & Beauty, he shares with audiences an ode to the mundanity and madness that happens on the street, told through the window of an African hair salon run by Auntie (Tomi Ogunjobi) and Favour (Kemi Lofinmakin). 

The hustle and bustle give way to conversations, conversions (of the religious type), and diversions that make this absurd, yet beautiful look at Blackness a fresh and unique experience to include in your next watch party with friends.