6 Things to Know About the Tragedy at the Travis Scott Astroworld Festival in Houston
A criminal investigation is underway, as victims start filing lawsuits.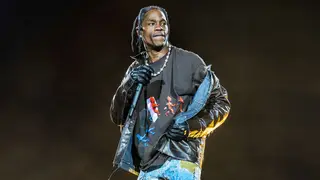 Authorities in Houston have launched a criminal investigation into what caused a stampede at the Astroworld music festival during a performance by rapper Travis Scott on Nov. 5 at NRG Park in Houston. At least eight people died and dozens more were injured.
According to The Washington Post, a video reconstruction of the event shows a chaotic scene. Concertgoers called for help when the crowd rushed toward the stage and trampled some people.
There are questions about whether Scott was unaware of the gravity of the situation happening in the crowd when he continued the show.
In the aftermath, a video circulated on social media that appears to show Scott continuing to perform while the police try to resuscitate a concertgoer nearby. "You can't tell me Travis Scott didn't see this kid getting resuscitated while he was up there doing the robot," the video was captioned.
There are also questions about whether proper safety protocols were ignored by the event organizers. Several lawsuits have been filed against Scott and the event management companies.
Criminal investigation

Houston Police Department spokeswoman Jodi Silva said the investigation would be "all-encompassing" and led by the department's homicide division, according to the Post. Houston Mayor Sylvester Turner stated that the probe is expected to go on for "quite some time to determine what exactly happened," adding that it could continue for several weeks.

Meanwhile, Harris County Judge Lina Hidalgo, a county executive who oversees emergency management, called on Saturday for an independent investigation.

Officials said their investigation will include reviewing video taken by concert promoter Live Nation, as well as clips from people who attended the event, according to USA Today. They will also take a close look at the event's security plan and permits issued to the organizers to determine if they took proper steps. Also, they will interview Scott, representatives from concert promotion company Live Nation, as well as concertgoers.

Who are the victims?

An estimated 50,000 people attended the concert. Those who died ranged in age from 14 to 27, according to CNN. At least 25 people were taken to the hospital on Friday, 13 of which remained hospitalized the next day. Five of them were under 18 years old, including a 10-year-old who was in critical condition.

More than 300 concertgoers were treated at a field hospital set up near the festival. Several of them expired after experiencing cardiac arrest.

Seven of the eight victims have been publicly identified and are as follows, according to published reports:

Axel Acosta, 21
Danish Baig, 27

John Hilgert, 14
Jacob Jurinek, 20
Franco Patino, 21
Rodolfo Peña, 23

How has Travis Scott responded?

"I'm absolutely devastated by what took place last night. My prayers go out to the families and all those impacted by what happened at Astroworld Festival," Scott wrote, adding that the Houston Police Department and the community have his support.

Kylie Jenner posted a statement Sunday (Nov. 7) on Instagram about the tragedy at her boyfriend Scott, with whom she shares a child and has another on the way.

"Travis and I are broken and devastated. My thoughts and prayers are with all who lost their lives, were injured or affected in any way by yesterday's events. And also for Travis who I know cares deeply for his fans and the Houston community," she wrote.

In addition to her condolences, Jenner stated that Scott was unaware of the gravity of the situation happening in the crowd when he continued the show.

"I want to make it clear we weren't aware of any fatalities until the news came out after the show and in no world would have continued filming or performing. I am sending my deepest condolences to all the families during this difficult time and will be praying for the healing of everyone who has been impacted," her message continued.

Lawsuits filed and more expected

Civil rights attorney Ben Crump announced that he's representing Astroworld victims. He identified one of his clients as Noah Gutierrez and expects to file more suits next week.

"We are hearing horrific accounts of the terror and helplessness people experienced -- the horror of a crushing crowd and the awful trauma of watching people die while trying unsuccessfully to save them," Crump said in a statement, urging others who suffered "physical or emotional injury" or witnesses to come forward.

Billboard reported that Scott and other organizers of the music festival faced what was believed to be the first lawsuit filed by an injured concertgoer.

Concertgoer Manuel Souza sued Scott, ScoreMore and concert giant Live Nation on Saturday. The lawsuit alleges that the organizers put profit ahead of people and "failed to properly plan and conduct the concert in a safe manner."

According to the documents, viewed by E! News, Manuel "suffered serious bodily injuries when the uncontrolled crowd at the concert knocked him to the ground and trampled him."

The "plaintiff's injuries were the inevitable and predictable result of defendants' conscious disregard of the extreme risks of harm to concertgoers that had been escalating since hours earlier," the lawsuit states.

In a separate lawsuit, concertgoer Kristian Paredes alleged negligence against Scott, Live Nation, Harris County Sports & Convention Corporation, and the rapper Drake, E! News reported.

Drake allegedly "came on stage alongside Travis Scott and helped incite the crowd," and "the crowd became chaotic and a stampede began leaving eight dead and dozens including Kristian Paredes severely injured."

Concert safety plan

According to the Post, the event organizers created an operational plan in consultation with the Houston police and fire departments. The venue staff at NRG Park said that the executive producer and the festival director had authority to stop the show, but the report did not specify who held those roles.

"The documents showed that seven people identified as being in the event's "management structure," but a job title was stated for only a safety and risk director. A separate part of the document that was supposed to specify individuals who could shut down the power and end the show to allow for an evacuation was left blank," the Post said.

It failed to specifically address crowd surges or mosh pit safety concerns, but it was unclear if the document was the final version of the event operation plan.

The Los Angeles-based Contemporary Services Corp. was responsible for security staff at the festival, USA Today reported, citing county records in Texas. Live Nation Entertainment has been fined or sued for issues ranging from unruly crowds to equipment failures at various venues and concerts in the past.

Day N Vegas Festival canceled

Scott canceled his will not perform at the upcoming Day N Vegas Festival slated for Nov. 13 in Las Vegas, according to Variety, citing unnamed sources who describe the rapper as "too distraught" to take the stage.

The event is a general-admission festival, like Astroworld, where seats are not assigned, leaving people to compete for prime spots. Scott was expected to refund attendees who bought tickets to his Houston concert. Roddy Rich, who performed prior to Scott in Houston said that he will donate his earnings from the festival to the families of those who died, according to Variety. He will perform in Las Vegas. Also scheduled to perform during the festival are hip-hop artists Kendrick Lamar and Tyler the Creator.