8 Confirmed Dead And Many Injured After Crowd Surge At Travis Scott's Astroworld Festival In Houston
The tragedy happened just after 9 p.m. local time.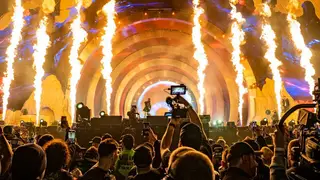 At least eight people were killed and many others were injured after a crowd surged toward the stage at Travis Scott's Astroworld music festival on Friday night (November 5) in Houston.
Investigators on Saturday were still trying to determine exactly what happened, but the incident occurred when "the crowd surged towards the stage, crushing those at the front who were unable to escape," local fire chief Sam Peña told CNN.
The incident broke out just after 9 p.m. CST. An estimated 50,000 people attended the sold-out event at NRG Park.
Video recordings of the event shows Travis on-stage looking confused as an ambulance with flashing lights moves into the densely packed crowd.
Concert-goers reportedly rushed the stage in an effort to escape the chaos, causing panic, while the situation worsened when security personnel were overwhelmed, police say.
"People began to fall out, become unconscious, and it created additional panic," Peña said at a news conference, and added that more than 300 people were treated at a field hospital set up near the festival.
Peña also stated that 23 people were taken to hospitals with eight of them dying. Their causes of death will be determined by a medical examiner.
Astroworld is a two-day music festival that was scheduled to take place Friday and Saturday in Houston. Saturday's performances have been canceled, USA Today reports.