Did Angela Simmons Dump Her Baby's Father?
The reality star posted a cryptic message to social media.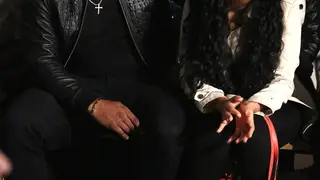 Angela Simmons seemed to be on the road to the altar with Sutton Tennyson, the father of her child.
Now, judging from a mysterious post the entrepreneur made on Instagram, many are saying Simmons is currently a single lady as she talked about "dropping fake smiles" and "not being able to do it anymore."
"Life is too short for fake smiles and hidden tears," she wrote. "When we love ourselves we don't take no crap from NOBODY! Love yourself first."
Take a look at the full caption, below:
Many have made the connection that her elusive comments were made in reference to her fiancé, Sutton Tennyson, who's been visibly absent from her social media for some time. He's been M.I.A. from her page for more than seven months, to be exact.
Tennyson popped the question to Angela back in April 2016. While she's been parading her icy engagement ring for some time after the proposal, she's been spotted without it on several occasions recently.
Watch the entrepreneur show photos of their baby with BET Breaks, above.