Samuel L. Jackson Is the Highest-Grossing Actor of All Time
The Guinness Book of World Records says the actor's career films have earned $7.42 billion.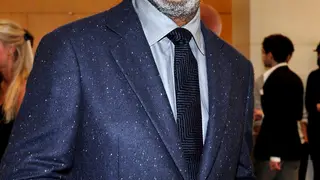 When it comes to being the all-time box office movie king only one man can beat out the likes of Tom Cruise, Tom Hanks and even Will Smith — and his name is Samuel L. Jackson.
According to the Guinness Book of World Records, the 60-year old actor's films have grossed a staggering $7.42 billion dollars over the course of his entire career.
If that information seems somewhat surprising consider this; Jackson usually stars in an average of three to four films a year, sometimes in costarring roles and a few of them also comprise some of the biggest most popular blockbusters ever made. Think less Snakes on a Plane and more Jurassic Park, Star Wars prequels and Iron Man.
So the Pulp Fiction star will never have to be an "above the movie title" leading man in the traditional sense with one big movie earning huge box office receipts yearly. Because Jackson always stars in several films annually, the total combined box office of all those films can at least equal, and even sometimes surpass, the year's profits of one big hit movie.

Maybe Guinness should also give Jackson a record for hardest working actor in Hollywood.