Nicki Minaj Is Reportedly Backing Her Brother 100 Percent In Child Sex Abuse Case
"There's a big, big motive to lie here..."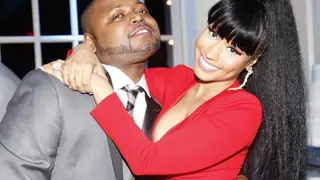 Jury selection in the child sex abuse case against Nicki Minaj's brother, Jelani Miraj, reportedly began last week. And according to a new report, Miraj has the full support of his superstar sister and doesn't believe the allegations, People reports.
"These are a bunch of lies," his attorney, David Schwartz, originally told Newsday. "There's a big, big motive to lie here which I can't get into right now. But these are false accusations."
Although Schwartz did not disclose the extent of Nicki's support, he spoke highly of his client's sibling, stating that she is behind him "100 percent." 
Miraj is accused of allegedly sexually abusing a 13-year-old girl. He is being tried for what is expected to be a three-week trial in Long Island, New York. The 38-year-old initially denied allegations in Dec. 2015 and plead not guilty of the charges of sexual misconduct and predatory sexual assault.
While Nicki has not publicly commented on her brother's case, it doesn't come as much of a surprise that she is standing behind him. She reportedly posted his $100,000 bail and used two of her homes to back the lofty amount, according to HotNewHipHop. Shortly after news broke, she also posted a photo of the two together with a caption showing her support.  
"I would cross the ocean for u. I would go & bring u the moon. Promise u. For u I will. I love my brother so much man," she wrote.
Despite the support, the rapper will reportedly not appear in court, Schwartz said.