INTERVIEW: Aleali May, Fly Geenius, And Vanson Leathers Team Up To Release An Epic Capsule Collection
The fashion influencer and famous motorcycle brand released the line just in time for New York Fashion Week!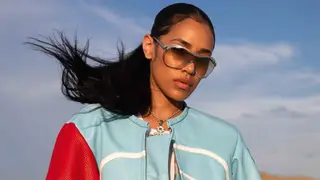 Aleali May is not new to collaborations. The notable street style star has worked with Jordan brand on her own sneakers and has modeled for renowned brands such as Off-White and Louis Vuitton. However, this line is very dear to her heart.
BET spoke with May during New York Fashion Week, where she opened up about how meaningful this partnership is to her. 'I grew up around bikes all my life with my Dad (aka Buddha) as a member of motorcycle clubs like 'Ruff Ryders' and now 'Chosen Few.' Not only did it influence my personal style, it really taught me how to build a foundation with a solid squad, celebrate together, and enjoy the ride.'
Davon Bean, and May met a few years ago during fashion week. Although it took some time for their capsule to be produced, Bean tells BET that he's been a fan of May, so the process with effortless. 'I met Aleali briefly in 2019 at a 3.1 Phillip Lim fashion show. We spoke briefly, we didn't speak about any [collaborations], so I just was telling her how I'm a fan of her movement.'
'When I officially became the creative director for Vanson Leathers, one of my goals was to shine a light on female bike riders and women in fashion. The first person I thought of was Aleali May. She is an inspiration for many of her generation; a charismatic female powerhouse, full of creativity and innovation,' says Bean.
The collection consists of two leather jackets, two vests, t-shirts, small leather goods such as wallets, and an updated version of the skeleton gloves. If you are into bike culture, you know about Vanson's iconic skeleton gloves. 
According to Bean and May, the design ideation was pretty easy. 'My initial approach was, 'how can I get fly in this?' My dad is a biker, literally on his way to a rally right now. So, my whole vision was about bikers. I took gunmetal silver since it's a color of celebration, baby blue like the sky, red and black since those are the colors of my dad's motorcycle club, called 'Chosen Few,' which is one of the first integrated clubs on the west coast, and put the palette altogether,' says May. 
Bean is the owner of Fly Geenius, and as the newly appointed Creative Director at Vanson, he wanted to stay true to the brand aesthetic when partnering with the multihyphenate on the collection. ' We dug into the archives for this capsule and brought out old logos from the seventies and eighties. I wanted to stay true to the brand and keep the perforated leather, but give it an overall update.' 
Bean and May have the vision to continue to amplify creative people of color, and this collaboration is a step in that direction. 'Collabs are very important, especially with Black creatives, because we're behind a lot of things, and sometimes we don't get the credit. Our culture is really what pushes a lot of things forward. It's very important to shine light on us,' says Bean. 
May agrees, 'this collaboration is about coming together in a space where we don't see ourselves. But yet have existed even before all of us were born. There is a rich history of Black bikers. So, we want to continue to highlight all of that. And now that we have the opportunity to get into these spaces, we have to pass the baton and encourage the next generation of young people to be themselves and make a difference.'
Fly Geenius x Aleali May capsule collection with Vanson Leathers is being exclusively presented by Stadium Goods. Prices range from $389 USD to $1,514 in sizes XS – XXXL.
This article has been condensed and modified for clarity.