Jesse Williams Teams Up With Entrepreneur Christopher Gray To Help Black Students Find Thousands Of Dollars In Scholarships
Gray's Scholly app is helping to level the playing field.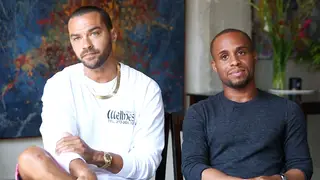 In April of 2015, Christopher Gray appeared on Shark Tank, the popular business start-up competition show. The Philadelphia native stood before the venture capitalists and presented his product, Scholly, an app designed to help students find scholarships for college. As he stood there, in less than a year, he'd already sold 92,000 downloads for 99 cents each. From the Shark Tank team, he sought a $40,000 investment in return for a 15 percent stake in the company.
At the time, Gray, who had independently procured $1.3 million in scholarships for his own studies, was a junior at Drexel University. As a young man with two siblings being raised by a single mother, resources were scarce. Gray understood the struggle many Black students have with not just applying to college, but being able to pay for it. His desire with his app is to make that opportunity a reality for others. He told the Sharks that it took him over seven months of scouring resources to compile a listing of over 20,000 scholarships.
The pitch to the Shark Tank team was so compelling it prompted the "Queen of CVC," Lori Greiner, to make a bid, matching Gray's offer immediately. A bidding war ensued with Daymond John, the hip-hop apparel company FUBU's founder, and Lori Greiner deciding to go in 50/50, investing $20,000 each for 15 percent of his company. Gray gladly accepted. 
Jesse Williams, the actor, activist and former educator, was among the millions of viewers watching Shark Tank that night. After meeting Gray at a conference, the two became partners, and today, Scholly has helped students find scholarships large and small. 
Williams says, "As a student, I struggled in college, too. With the stresses of student loans and being able to pay for school every single semester, doing ROTC and holding work-study jobs, I worried that I was gonna have to drop out. So it [Scholly] related to me, personally. Then, as a former teacher, I know it was a big issue for my students. So we connected." 
"We're now creating these hybrid awards where, if you win and you have student loans, you can use it to pay off your debt, and if you are a student, you can use it as a scholarship. " — Christopher Gray
Scholly uses app technology to make the scholarship and financial-aid application process as efficient as possible. The time-saving Scholly has proven invaluable to millions of students, educators and parents.
"Right now, we have three million users, and we've helped students raise over $100 million in scholarships so far," says Gray. "You go through the app and click a button and just start applying for the scholarship, instantly. My interest and excitement about the product is really about creating a great equalizer, because the barriers around education are entirely tied, intrinsically, to race and class. So we want to create that connective tissue that allows you to actually just peek into the window and see what your opportunities could be."
As an outspoken advocate for opportunities for African-American working-class families, Williams has a particular affinity for Scholly, as millions grapple with the burden of student-loan debt. 
"This [Scholly] is about direct responsiveness and creating community. We all know people who had to step out of school and didn't quite finish. And you always think you're going to go back, and that's a really hard thing to do. So this is really about helping people from working-class families."
Scholly success stories range from getting just the last few thousand dollars needed to graduate to hundreds of thousands to cover an entire education. One young man attending Princeton University secured over $600,000 in scholarships and went on to become an intern with Scholly.
Most recently, the Scholly team has advanced their mission to more specifically help graduates pay off their student loans. 
Says Gray, "We're now creating these hybrid awards where, if you win and you have student loans, you can use it to pay off your debt. And if you are a [current] student, you can use it as a scholarship." Thus far, the program has helped 13 grads pay off loans totaling up to $150,000. "We started with helping find scholarships, and now we have organizations coming to us [to offer help]." 
Williams and Gray are dedicated to addressing the student-debt crisis holistically, at each level of their experience, but also acknowledging the work that needs to be done at the political level to even the totally uneven playing field.
"I want to also say that this has everything to do with an ongoing and escalating conversation around the crippling cost of schools and universities, but also Black economy and Black economics," says Williams. "We should always be putting pressure on our government to be of service to its taxpayers, of course; that's going to be in the political cycle, that's going to be talking points, cool. But we should push them on the details.
"We need to try to get a handle on the steering wheel of our own destiny and think about what we can do without waiting with our hands out for somebody else to solve our problem. And this young brother [Gray] has figured out a way to actually tackle our issue ourselves."