Leskedit: 9 Melanin Moments We're Looking Forward To In 2018
Next year is already looking lit AF.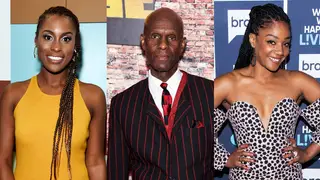 Let's face it: 2017 has been a doozy. This New Year's has us feeling like our "new year, new me" aspirations may actually stick for once. All the more reason to look forward to the 2018th year following Baby Jesus' exit from the womb. In 2018, here's all the stuff we're looking forward to — and there's a lot!
Dapper Dan's Harlem Atelier Will Re-Open — With Help From Gucci

Tyra Banks Will Return To her post as hbic on 'Antm'

It's only right that Tyra return to her rightful throne as HBIC, disciplinarian and Tyra Mail author of America's Next Top Model. Black Santa heard our pleas and Tyra will be back to encourage more smizing on January 9.

The Great Baby Boom of 2018

There are currently a LOT of buns in the oven and the timer is about to ding-a-ling-a-ling all over 2018. Kylie. Khloe. Kim. Chrissy Teigen. Toya Wright. Alexis Skyy. Tia Mowry. Eva Marcille. Sheesh! Suffice it to say, we're looking forward to bringing you a lot of #babycontent in 2018.

Royal Wedding 'Bout To Be Litty

Get ready for funny hats and lots of diamonds. We can't wait to see Prince Harry and Meghan Markle's May wedding, which will be broadcast on TV.

Black Panther...Party!

The highly anticipated film Black Panther hits theaters February 16!

Grammys Might Not Suck This Year

With Kendrick Lamar and SZA leading in nominations for male and female artists, respectively, we are hoping for the best (while still expecting the worst) from the upcoming Grammys. If we don't see Kenny and Solana take a home a handful of awards, we're dispatching someone to go full-Kanye onstage. Sorry 'bout it!

Midterm Elections

Incumbent senators, you've been warned: if you voted for the tax bill, your seat is in danger, girl. Black folks singlehandedly prevented a pedophile from becoming a Congressman. And we're just getting started! Catch us running to our polling places in November. (And if you're not already registered to vote, you can do so here!) 

Increased Representation On The Silver Screen

It's likely that 2018 will be a boundary-breaking year for POC representation in cinema. We have Ava DuVernay's Disney movie, A Wrinkle In Time, which will feature an incredibly diverse cast including Oprah (!) as its star. Tiffany Haddish will continue to keep us laughing in 2018, having a minimum of four new projects coming out in the new year, including three films: The Kitchen, The Temp and Night School (which will also star Kevin Hart!)

Our Shows are Back

We can look forward to new seasons of Insecure (HBO), Atlanta (FX) and the series premiere of Grown-ish (Freeform) in the new year! We'll drink to that.