Oscars 2022: Megan Thee Stallion Becomes First Female Rapper To Perform At The Academy Awards
She commanded the audience's attention with her bars on the remix of "We Don't Talk About Bruno".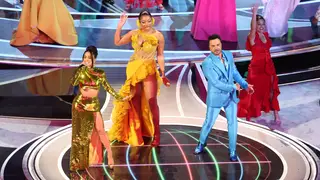 Commanding the attention of the live viewership in the Dolby Theatre in Los Angeles, California, the Houston Hottie put on a show in her dazzling yellow-gold split dress.
Adassa, Stephanie Beatriz, Mauro Castillo, Carolina Gaitan, and Diane Guerrero performed with Megan Thee Stallion, alongside artists Becky G and Luis Fonsi, for the first-ever live performance of the smash song.
Megan, who just performed at the Afro Nation festival in Puerto Rico, even posted that this performance was historic as it was the first to be done by a female rapper at the Oscars. 
The original verse was catered for the special night, even making mention of a nearby Zendaya.
"Magic everywhere, stars everywhere, I know you see Oscar's Zendaya over there," Thee Stallion says, as Zendaya dances in her seat to the impromptu-style performance.
"We Don't Talk About Bruno" is an original song from Disney's animated movie, Encanto. The song hit number one on the Billboard Global 200 in February.
The song is performed by Carolina Gaitán, Mauro Castillo, Adassa, Rhenzy Feliz, Diana Guerrero, Stephanie Beatriz and the Encanto cast.
Despite the popularity of the song, it was not submitted for Best Original Song at this year's Oscars.