Report: Eva Marcille Butts Heads With One The Atlanta 'Housewives'
She allegedly refused to revisit a particular detail from her past.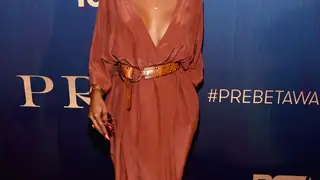 The tenth season of the Real Housewives of Atlanta is currenty in the filming stages and one of the newest faces to join the mix is Top Model Eva Marcille.
While the producers are hoping the pretty lady brings the heat so they can give her a peach, it's reported that they're not getting the spark they had hoped for as she refused to cough up details on a seemingly sentitive part of her past. 
According to Love B. Scott, things reportedly went left when one of the ladies brought up rumors of Eva's alleged lesbian relationships with two major stars, which she firmly denied. To the dismay of the reality show producers, however, she maintained her composure on camera, but cursed out the cast member who brought up the hearsay, once the cameras stopped rolling.
The America's Next Top Model cycle three winner reportedly found it best not to discuss her alleged past involvement with women as her boyfriend, Michael Sterling, is currently running for mayor and she does not want to do or say anything that could negatively affect his campaign.
Her cautiousness, though admirable for her relationship, is reportedly not holding up well with the powers that be at RHOA.
The tenth season of the Real Housewives of Atlanta premieres on November 5 on Bravo. 
See more RHOA news with BET Breaks, above.