Who's Lying? Stevie J and Joseline Blast Each Other on Social Media
Messy, messy, messy.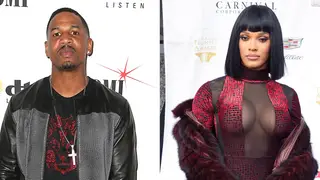 Stevie J and his estranged wife Joseline Hernandez appear to be writing their plot lines for the next season of Love & Hip Hop: Atlanta as we speak. The reality stars, who recently separated after three years of marriage, have been lashing out at each other on social media and in interviews.
On Sunday, Stevie J posted a video slamming Joseline for dissing him on the radio. "[She is] talking about no music on the radio in 20 years. Ma, I still get more residuals off of any song I did in the '90s than you'll ever get off any of them bum a** songs  you did," he said. "I got a No. 1 record right now. You'll never have that … Be careful, be very careful baby. And I'm not your husband. Never have been and never will be."
Watch Stevie go off on Joseline below:
Joseline responded to Stevie's claims by tweeting that she's ready to expose him:
Threatening to expose him, she tweeted, "BISH I think I'm dropping the bomb today f**k it."
She goes on to challenge him to a lie detector test and also shared several NSFW memes blasting her husband that you'll have to head over to her timeline to see.
Last month, Stevie J posted on Twitter that he was single. "God, 1 day I need a lovely, virtuous, loyal & God-fearing woman, not now but when You are ready. #ImHappierSingle #LetHerGo," he tweeted in May.
Joseline shared her side of the story on Wendy Williams shortly after, painting Stevie out to be a jealous control freak who was paranoid about her cheating with rappers The Game and Rick Ross. "He was so jealous. He went after Rick Ross online; he went after The Game. He goes after all those people," Joseline told Wendy. "We're separated. We've been separated for six months."
She added, "He's 15 years older than me, so he's so controlling. He wants to have me like a puppet master. And I'm like, no, I gotta go. Peace out."
This social media war isn't the half of it. See what Joseline did to get revenge on her husband on Wendy Williams above.