J. Cole Finally Received His Diploma At His St. John's Concert Last Night
Dreamville's head honcho is sending the gift home to his mama.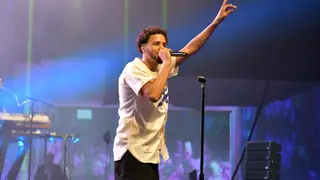 Last night J. Cole performed something of a homecoming concert at his alma mater, St. John's University in Queens, New York, and he left with a little more than he walked in the door with.
Cole, a summa cum laude 2007 graduate of the prestigious university, never received his physical diploma. The reason? A missing library book that he was fined for that never got paid off.
"If you have any outstanding fee, that translates to money," the rapper said. "There's a price associated with it. I never paid. That's why I don't have my degree."
The special moment was a surprise to everyone in the audience and on the stage, and after the former provost and his former professor Dr. Julia Upton presented him with the piece of paper — which represented the time that he spent at the university — J. Cole joked that the school let him slide and that he would send it off to one woman in particular: his mom.
Read more about the magical night here!
BET.com is your No. 1 source for Black celebrity news, photos, exclusive videos and all the latest in the world of hip hop and R&B music.
(Photo: Gustavo Caballero/Getty Images for ESPN)