Sherri Shepherd Reveals She Had A Breast Reduction in Season 2 Premiere of Talk Show
"I'm so happy that I did it because I was a 42DD," said the host.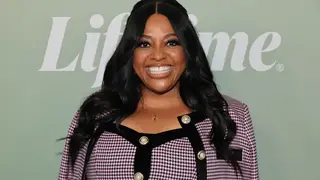 Sherri Shepherd is back for a new season of her namesake talk show, Sherri, with exciting news she's kept on the low since the summer.
"I've been holding onto this secret since July 13, which was 67 days ago," she began during Monday's broadcast.
As she reflected on her career, she added, "I get so many comments about my body, and a lot of you kept saying, 'Sherri, you're too top-heavy. And I would get comments like, 'If you just got a boob job, everything would be balanced."'
"So guess what? I got my boobs done!" she exclaimed as she got out of her chair to show off her new assets while wearing an ankle-length bright pink dress.
"Season two is going to be bigger, except these boobs," she quipped.
Then, she clarified her decision to undergo breast reduction surgery.  "To be clear, I did not get this boob job because of all of the comments I got. I got the boob job to see what it would feel like to sleep on my stomach."
"I thought I was carrying around the weight of the world, but really it was the weight of my boobs."
She also said her cup size was affecting her health and posture. "I was slouching all the time...It started becoming really, really painful. My back was hurting really badly." She also shared she developed "grooves" in her shoulders.
For Shepherd, this new journey has been exciting, and a decision she does not regret doing earlier. "Timing is everything. God gave them to me. They served me well."
Now, Shepherd says she "feels lighter and it's easier to shop."
"I'm so happy that I did it because I was a 42DD," she explained while sitting down, addressing the audience. Although she is satisfied with her decision, she remarked it as  "bittersweet."
"I love my old girls, my best friends, I call them. They grew up with me. They have been with me through thick and thin. This was a relationship. I loved them. They've been my best friends for so long."