Sunday Best Season 6 — Auditions
Get the latest on Sunday Best season 6 auditions!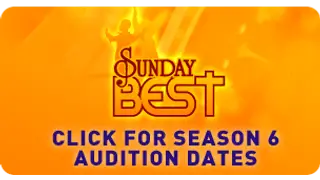 Sunday Best is back for season 6 and the audition dates and locations are as follows:  

Houston, TX

Saturday, March 23

New Light Christian Center Church
1535 Greensmark Drive 
Houston, TX 77067 
Doors open at 7 A.M. and close at 12 Noon in each city. To register for the BET.com Digital VIP Suite for a chance to go straight to the judge's round after your preliminary audition, click HERE! For more information, bookmark this page and come back regularly or call 1-888-287-7071.

Audition Songs
1. I Need Your Glory – Earnest Pugh
2. Nobody Greater – Vashawn Mitchell
3. Awesome – Charles Jenkins
4. Thank You Lord (For All You've Done For Me) – Walter Hawkins
5. I'll Make It – Hezekiah Walker
6. Turning Around For Me – Vashawn Mitchell
7. Indescribable – Kierra Sheard
8. Holy Holy Holy – Traditional Version
9. I Need Thee Every Hour - Traditional Version
10. No Not One (There's Not A Friend) – Traditional Version
11. Near The Cross (In The Cross) – Traditional Version
12. Blessed Assurance – Traditional Version
13. Blessed Quietness – Traditional Version
14. Jesus Paid It All – Traditional Version
15. Never Alone – Traditional Version
16. Battle Hymn Of The Republic – Traditional Version
17. It Pays To Serve Jesus – Traditional Version
18. Just As I Am – Traditional Version
19. Since Jesus Came Into My Heart – Traditional Version
20. It Is Well – Traditional Version
21. Power In The Blood – Traditional Version
22. Savior, Like A Shepherd Lead Us – Traditional Version
23. I Surrender All – Traditional Version
24. Bye and Bye (When The Morning Comes) – Traditional Version