Ryan Seacrest Developing Reality Show About White Female Rappers
American Idol host to produce new hip hop series.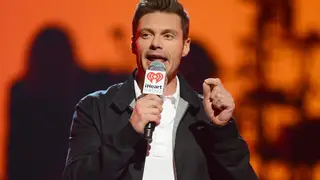 Ryan Seacrest's latest TV project will surround white female rappers trying to navigate through the music industry, according to AllHipHop.com.
Seacrest, host of American Idol  and producer of reality shows like Keeping Up With the Kardashians and Shahs of Sunset, will helm the VH1 docu-series tentatively titled Girls in the Game. It is unclear if casting has begun. 
Meanwhile, the plight of white female rappers is one that has been raised in the media before, for example, by Iggy Azalea, who weighed in on breaking through rap barriers as both a white and Australian artist in a Complex magazine interview. "The Rolling Stones go to America, play 'black' blues music, and nobody has a f---ing issue with it or thinks it's weird," Azalea told the mag. "But here we are, 50 years later, in the 21st century, and people are like, 'This is so weird that you're white, from another country, and you like black music.' Why is it not weird for Keith Richards or Mick Jagger, but it's so weird and taboo for me?"

In entertainment, there's no politics, she said. "If you're mad about it and you're a black person then start a rap career and give it a go, too. I'm not taking anyone's spot, so make yourself a mixtape," she continued. "Or maybe if you're black, start singing like a country singer and be a white person. I don't know. Why is it such a big deal? This is the entertainment industry. It's not politics. You should be more concerned about the message, not the voices saying it."
VH1, too, has tried its hand at the topic with 2007's The White Rapper Show presented by Ego Trip magazine. The short-lived reality show featured aspiring rappers vying for a $100,000 grand prize. Since then, the network has found its footing in other hip hop-based reality programming including Love & Hip Hop and Master of the Mix, the latter of which was a DJ competition. 
BET.com is your #1 source for Black celebrity news, photos, exclusive videos and all the latest in the world of hip hop and R&B music.
 (Photo: Ethan Miller/Getty Images for Clear Channel)