Big Sean Details How He Deals With Anxiety
"You just have to pace yourself and take a break before you need a break."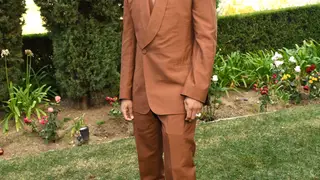 Big Sean has been very open in the past about his struggles with anxiety. In a new interview with PEOPLE, the rapper explained how he handles it whenever he has an episode. 
You just have to pace yourself and take a break before you need a break," he said. "It gets very real. Especially with a person like me. I live inside my head so much."
"I go over scenarios, and I go over two or three things at the same time, and that creates an overwhelming feeling and a lot of anxiety, which leads to depression, which leads to all these things," he continued. "I had to learn how to pace myself. Not to say I still don't go through those things. I definitely do. It's just; now I know how to deal with them."
Big Sean also revealed how he's getting better at taking care of himself within the last few months. "I'm putting myself as a priority, and that really, really speaks volumes," he said. "When you do that, you start looking better, and you start feeling better, and being better in everything you do. So, it's important."
Big Sean released his latest album Detroit 2 in September. The LP featured appearances from Nipsey Hussle, Lil Wayne, and more. 
That month, Big Sean also revealed that another album with Jhené Aiko similar to 2088 is in the works.