50 Cent Reveals Why He's No Longer Attending Parties Thrown By Diddy
This isn't the first time he's discussed spending time with the Bad Boy Records founder.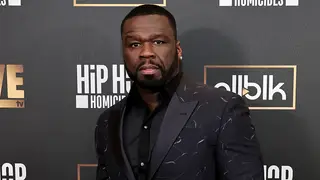 50 Cent apparently isn't a fan of Diddy's actions during parties he throws.
During a recent stop on his The Final Lap Tour, the Queens rapper revealed why he doesn't attend the Bad Boy Records founder's soirées.
"That's why I don't be going to them Puffy parties. Uh-uh. N***a hug you from the front and the back at the same time? F**k you talkin' about? Look, if you into that, you into that," Fif said on stage. "I'm fine with it. To each his own. I'm just sayin' this ain't my m****rf*****g kind of party. It's uncomfortable. I think I belong in the girls bathroom when s**t like that is going on."
This isn't the first time 50 Cent has commented about Diddy's alleged behavior while they've been around each other. In 2018, the former labeled the latter "fruity" over how he says things during an appearance on The Breakfast Club.